– "Animals are my friends….and I don't eat my friends" George Bernard Shaw
– "A man can live and be healthy without killing animals for food, therefore if he eats meat, he participates in taking animal life merely for the sake of his appetite. And to act so is immoral." Leo Tolstoy
– "I love animals so much because I have a spiritual and moral bond with them, there's no way that it's justified that we should eat them, why should they suffer for us when there are other alternatives like fruit and vegetables?." BV
– Everything is Connected, when one being suffers, all of humanity suffers. We all live on this one single planet, mankind and the plant and animal kingdoms. Are we co-existing in peace, mind, spirit and body harmony or is there war, suffering, disease, destruction of our habitat and mental confusion? This is not our natural state and therefore not sustainable.
– "In the beginning God created the heaven and the earth.
And God said, Behold, I have given you every herb bearing seed, which is
upon the face of all the earth, and every tree, in the which is the fruit of a
tree yielding seed; to you it shall be for meat." Genesis 1:1,29
– "In the midst of the street of it, and on either side of the
river, was there the tree of life, which bare twelve manner of
fruits, and yielded her fruit every month; and the leaves of the
tree were for the healing of the nations." Revelation 22:2
Video Clips/Documentaries
Shocking 1.5 Min. Video the World Must See!
Neal Barnard M.D. 2017 Mad City Vegan Fest
Jamie Oliver's TED Award speech
Paul McCartney's "Glass Walls"
Monsanto, The Future of Food
What's wrong with what we eat?
Our Diet Choices and it's Consequences on the Planet
The Truth About Your Food with FOOD, INC
Why Vegan? – an amazing Presentation by Gary Yourofsky
101 Reasons to Go Vegan – ARFF – Animal Rights Foundation of Florida
Fat, Sick and nearly Dead
Vegetarian and Vegan Resources

Indian Recipes, 14 Categories including Gujarati, Breads, South Indian, Sweets, Spices, Punjabi, Rice, Soups and Salads, Coctails and Snacks, Mocktails, Tiffin Snacks, Pickles, Cakes

Ayurvedic Recipes

Basics, Vegetarian Basics

Vegetarian – 101 Reasons Why I'm a Vegetarian 2007(courtesy P Rice)

Vegetarian – 101 Reasons Why I'm a Vegetarian (courtesy P Rice)

100's of Indian Recipes (zipped file)

332 Indian Recipes

101 Recipes from God's Garden

A Meaningful Life Animal Advocacy, Human Nature by Matt Ball

Cooking with Kurma – learn Vaishnava cooking (website)

Eating for Peace by Thich Nhat Hanh

Food for Life

Food, Cells, Physical and Mental Development

Food, Values and Ecology

Go Green, Eat Veg, Save the Planet by Master Ching Hai

Guide to Going Vegan/Veggie (with recipes)

Guide to Vegetarian Eating (courtesy Humane Society)

Herbs that Heal

How to Win an Argument with a Meat Eater

Lifestyle to Health Recipes (Vegan)

Medicinal Herbs

Indian Foods/Recipes
Indian Cooking/Recipes (courtesy Sify Foods):

Breads


Chutneys


Daals 1


Daals 2


Dosa 1


Dosa 2


Fruits


Fruity Desserts


Shri Ganesh Festival Recipes 1


&Shri Ganesh Festival Recipes 2


Halwa (sweetmeats)


Health Related Recipes


Idli


Navarathri Recipes


Paneer


Pickles and Chutneys


Pulses and Lentils


Starters


Z – All the above in one zipped file

The Case against Milk (courtesy Earthsave – Canada)

To Cherish All Life by Roshi Philip Kapleau

Veg for Life, Guide to Veg Living – courtesy Farm Sanctuary

Vegan – the New Ethics of Eating – Erik Marcus

Vegan Pleasures – Recipes

Vegan Recipes – A Taste of Vitality

Vegan Recipes – Desserts of Vitality

Vegan Starter Guide by Friends of Animals

Vegan – Why Vegan?

Vegetarian Cookbook

Vegetarian Diet Packet

Vegetarian Edge

Vegetarianism, For Our Bodies, Our Minds, Our Souls and Our Planet By His Holiness Pujya Swami Chidanand Saraswatiji

Vegetarianism Recommended in Vedic Scriptures

Vegetarian Starter Guide (courtesy Compassion over Killing)

Vegetarian Starter Kit with Recipes

Vegetarian Starter Kit (courtesy PETA) with Resources

Vegetarianism – Powerpoint Presentation

Vegetarianism Slideshow – MacroFlash

Vivisection in America – Albert Leffingwell

Why Vegetarian (Brazil Conference notes)

Why Hindu's Don't Eat Meat?

World Peace Diet – Courtesy of Dr Will Tuttle
Veg Websites
American Dietetic Association's Position Paper on Vegetarian Diets
American Natural Hygiene Society
Action for Animals Store (books, DVDs, etc.)
Ban Battery Cages (Egg Production)
Beyond Beef: The Rise and Fall of the Cattle Culture
Beyond Beef Fact Sheets (Environment, Family Farms, Global Hunger, Poverty)
CAA Resource Library of Videos and Photos
Christian Vegetarian Association
Circle of Compassion (Free Humane Education Presentations)
Coalition for Consumer Information on Cosmetics (Cruelty-free Lists)
Community Supported Agriculture Resources
Compassion in World Farming (UK)
Cows Are Cool (Leather Alternatives)
Effects of Livestock Production on Western Public Lands
Ultimate Guide to Pet Adoption
Farmed Animal Net (Fact Sheets, Action Alerts, Comprehensive Links, News Digest)
Fishing Hurts (Commercial and "Sport" Fishing, Fish Feel Pain)
Grass Roots Veganism with Joanne Stepaniak
Happy Cow's Global Guide to Vegetarian Restaurants
William Harris, MD, The Scientific Basis of Vegetarianism
Humane Farming Association
Humane Society of the United States
International Vegetarian Union
The McDougall Wellness Center (John McDougall, MD)
Nutrition Advocate (affiliated with T. Colin Campbell, PhD)
NOFA/Mass (Northeast Organic Farming Assn./MA chapter-guide to organic growers & farmers' markets)
North American Vegetarian Society
Physicians Committee for Responsible Medicine
Tribe of Heart (Animal People Film Documentaries)
Unhappy Cows (Contrasts dairy ads with actual conditions)
United Poultry Concerns (Treatment of Domestic Fowl)
Veg Families (Raising Vegan Children)
Vegan Food Pyramid (Vesanto Melina & Brenda Davis, RDs)
VegDining Guide to Vegetarian Restaurants Worldwide
Vegetarian Nutrition Dietetic Practice Group of The American Dietetic Association
Vegetarian Society of the U.K.
Vegetarian Union of North America
VegRD Nutrition Answers from Virginia Messina, RD, MPH
Waste of the West: Public Lands Ranching
World Animal Net (Directory of 10,000 organizations)
Vegetarian Documentaries/Movie Clips
A Delicate Balance (Australia)
(84 minutes)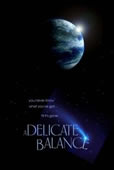 A Delicate Balance
documents the latest discoveries of some of the most prominent experts on
nutrition in the world. Over 50 years of research is skilfully woven into
what feels like a detective unravelling the mysteries behind the disease
epidemic which has struck affluent countries with a vengeance – disease
has been escalating over the last 50 years resulting in 1 in 2 men and 1
in 3 women being diagnosed with cancer. Watching this film will help
you make informed choices about your health and the environment around you
and how to reduce your personal impact.
Website: adelicatebalance.com.au
A Life Connected
(12 minutes)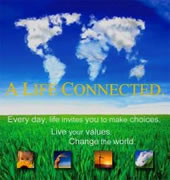 "We believe people are born with values that connect them to humanity and the rest of the world in which they live —
values of justice, kindness and compassion. Our task is to help each other reconnect."
Website: Watch it online
A Sacred Duty: Applying Jewish Values To Help Heal The World
(60 minutes)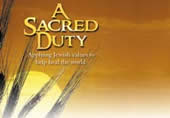 Jewish Vegetarians of North America produced this documentary about how
Jewish teachings can help address current environmental crises. It is
especially suitable for synagogues, temples, JCCs, Jewish schools and
other Jewish institutions. However, its universal message speaks to
people everywhere about the ethics of our relationship to the natural
world, and why it is imperative that we respond quickly to help shift our
imperiled planet to a sustainable path. It is an expose of the
dangers of global warming that highlights how religious responses can make
a difference, and why a shift toward plant-based diets is an essential
part of efforts to reduce global climate change and other environmental
threats. Includes interviews with Rabbis, Israeli environmentalists,
and prominent Jewish activists.
Order a free DVD or watch online at www.jewishveg.com/asacredduty/
Earthlings
(90 minutes)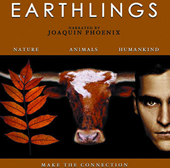 Narrated by Joaquin Phoenix, music by Moby
Award-winning documentary film about the suffering of animals for
food, fashion, pets, entertainment and medical research. Caution: content is graphic and disturbing throughout. In an
interview with Katie Courick, Ellen DeGeneres says this is the film that made her go vegan.
Website: http://www.earthlings.com/
Eating
(88 minutes)


Join over 20 million people throughout the world who have watched this award-winning film. It covers a lot of ground
very comprehensively. Among the many highlights are interviews with Dr.
Caldwell Esselstyn, Dr. Neil Pinckney, Dr. Ruth Heidrich and Dr. Joseph
Crowe… What you will get is a virtual one-on-one consultation with some
of the world's leading authorities on heart disease reversal. Includes segments on environmental and ethical issues.
Website: http://www.ravediet.com/
Food, Inc.
(91 minutes)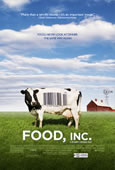 The word "vegetarianism" is never mentioned once
in this Academy Award nominated documentary, even though it would be the
solution to so many of the wrongs vividly exposed in the film. This
is an omnivore's view of the problem of our industrialized food system and
its effect on our environment, health, economy, and workers' rights.
Nevertheless, its high production quality and exposé of factory
farming and agribusiness make it worthy of inclusion on our list.
Through its broad commercial distribution and recognition, many people may
have gotten their first inside view of what is involved in producing meat
in America.
Website: http://www.foodincmovie.com/
Forks Over Knives
(96 minutes)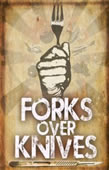 This feature film examines the profound claim that most, if not all, of
the degenerative diseases that afflict us can be controlled, or even
reversed, by rejecting our present menu of animal-based and processed
foods. The major storyline traces the personal journeys of two
pioneering nutrition and health researchers, T. Colin Campbell PhD and
Caldwell Esselstyn Jr, MD. The idea of food as medicine is put to
the test. Throughout the film, cameras follow "reality patients" who
have chronic conditions from heart disease to diabetes. Doctors
teach these patients how to adopt a whole foods plant-based diet as the
primary approach to treat their ailments—while the challenges and triumphs
of their journeys are revealed. The film features many nutrition
experts, and utilizes state of the art 3-D graphics and rare archival
footage.
Website: href="http://forksoverknives.com/" target=_blank>forksoverknives.com
Read the excellent Boston Globe review, which opens,
"What 'An Inconvenient Truth' did for global warming, Lee Fulkerson's persuasive documentary does for a vegan diet."
Here is film critic Roger Ebert's terrific review, which opens,
"Here is a film that could save your life.
Mad Cowboy
(58 minutes)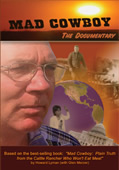 Based on the book Mad Cowboy: Plain Truth
from the Cattle Rancher Who Won't Eat Meat, by Howard Lyman.
This is the story of the fourth generation cattle rancher and dairy farmer
turned vegetarian and food safety activist who was co-defendant with Oprah
Winfrey in the infamous "veggie libel" case brought by Texas
ranchers. Lyman uncovers the dangerous and potentially deadly
practices of the cattle and dairy industry. The film is a manifesto
for change from an industry insider whose firsthand experiences may alter
the way you think about your food, and the people who produce it.
Website:
http://www.madcowboy.com/02_VVFprods.002.html#MCD
Meat the Truth
(73 minutes)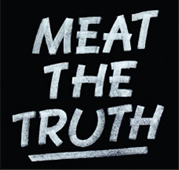 A Dutch-produced documentary, Meat the
Truth is done in the style of Al Gore's An Inconvenient
Truth and presents the case for meat production's impact on climate
change. It is a must-see companion film to An Inconvenient
Truth, presenting the critical information omitted from the earlier
film and contributing to societal discussion about movement towards
plant-based diets and thus also a more humane society.
Website: http://www.meatthetruth.com/ and
http://www.meatthetruth.nl/content/view/114
Peaceable Kingdom: The Journey Home
(78 minutes)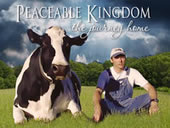 A story of transformation and healing, this film
explores the awakening conscience of several people who grew up in
traditional farming culture and who have now come to question the basic
premises of their inherited way of life. With honest interviews and
rare footage demonstrating the emotional lives and intense family bonds of
animals most often viewed as living commodities, this groundbreaking
documentary shatters stereotypical notions of farmers, farm life, and
perhaps most surprisingly, farm animals themselves.
Website: http://www.tribeofheart.org/
PLANEAT
(71 minutes)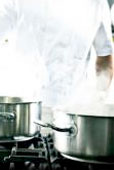 PLANEAT is the story of three men's life-long
search for a diet, which is good for our health, good for the environment
and good for the future of the planet. With an additional cast of
pioneering chefs and some of the best cooking you have ever seen, the
scientists and doctors in the film present a convincing case for the West
to re-examine its love affair with meat and dairy. The film features the
ground-breaking work of Dr. T Colin Campbell in id=lw_1317171671_2>China exploring the link between diet and
disease, Dr. Caldwell Esselstyn's use of
diet to treat heart disease patients, and Professor Gidon Eshel's
investigations into how our food choices contribute to global warming,
land use and oceanic deadzones.
With the help of some innovative
farmers and chefs, PLANEAT shows how the problems we face today can be
solved, without simply resorting to a diet of lentils and lettuce
leaves. When buying access to the film, viewers also get an 8 minute
interview with Prof. Peter Singer, and PLANEAT with Spanish and German
subtitles. Here is a rel=nofollow target=_blank>review.
Website: http://planeat.tv/
Processed People(40 minutes)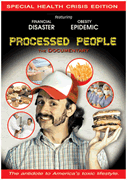 Processed People features in-depth
discussions with leading health and environmental experts/advocates
detailing why so many of us are sick, and offers solutions to our current
devastating health crisis. It features insightful interviews from nine
preeminent health and environmental experts/advocates. They discuss how
and why Americans got into this mess, and what we can do to break the
'processed people' cycle. The DVD contains the full documentary (40
minutes) along with 140 additional minutes of extended personal interviews
with the experts, plus another 25 minutes of special feature items.
Website: http://www.processedpeople.com/
Seeing Through the Fence
(83 minutes)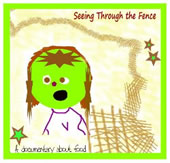 Through a series of humorous and poignant
interviews conducted across the US and in Greece with "random people," the
documentarian's family, and activists, Seeing Through the Fence
explores our attitudes about the role of food in modern society and our
connection, or lack of connection, with both the processes and animals
from which our food originates, asking the question, "What prevents
ethical principles from being advanced to action?"
Website: http://www.porchlifeproductions.com/
Sustainable Table
(52 minutes)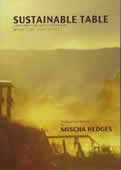 Over a period of nine months, Mischa Hedges and Digital
Sense Productions traveled the west coast to learn more about our food
system. During production, he found that the standard methods of producing
food do not take environmental or human health costs into consideration.
He also explored the many alternatives to the current agricultural system.
Includes interviews with Howard Lyman (Mad Cowboy) and
Kenneth Williams (vegan bodybuilder).
Website: http://www.sustainabletablemovie.com/
The Animals Film
(25th Anniversary Edition, 120 minutes)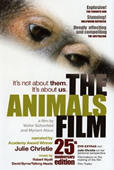 The most impressive film maudit, possibly too
hot to handle, is Victor Schonfeld's The Animals Film, a
polemical onslaught, stuffed with footage never before shown, and a wealth
of newly-shot material often taken undercover, which documents…mankind's
degradation, exploitation, and often pointless torture, of the creatures
who share our planet… I do not know when I have come out of a screening
so moved by the power of the cinema as a medium to transform the entire
sensibility of an audience.
Website: http://www.victorschonfeld.com/
The Emotional World of Farm Animals
(53 minutes)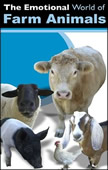 Aired nationally on PBS, this is a documentary
for viewers of all ages about the thinking and feeling side of animals who
are all too often just viewed as food. Jeffrey Masson leads viewers
through the personal journey he underwent while writing his book, The
Pig Who Sang to The Moon. This journey into the sentient,
emotional lives of farm animals brings Masson to animal sanctuaries around
the country where caregivers and the animals themselves tell their stories
of rescue and escape. Masson delves into the rich ancestry of these
curious and intelligent animals and interviews top experts in animal
behavior. A 50 page study guide to accompany the film is also
available.
Website: http://www.animalplace.org/shop.html
The True Cost of Food
(15 minutes, and a 7-minute abridged version; DVD or watch online)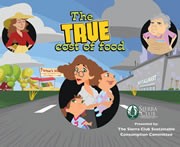 Produced by The Sierra Club Sustainable
Consumption Committee Mission, this film's goal is to encourage
people to think about the environmental impacts of their consumption
choices by providing specific information.
Website: http://www.sierraclub.org/truecostoffood/movie.asp
The Witness
(43 minutes)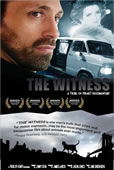 The Witness is one man's truth that cries
out for mass exposure, it may be the most important and persuasive film about
animals ever made.
In this award-winning documentary, a construction
contractor from a tough Brooklyn neighborhood explains how he feared and
avoided animals for most of his life, until the love of a kitten opened
his heart, inspiring him to rescue abandoned animals and bring his message
of compassion to the streets of New York. With humor and sincerity, he
tells the story of his remarkable change in consciousness.
Website: http://www.witnessfilm.org/ and
To Your Health
(60 minutes)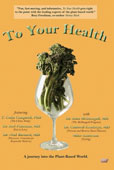 To Your Health is an in-depth study of whole
food, plant-based nutrition, debunking the most common myths
associated with modern nutrition. Part road movie, part documentary,
the film takes the viewer on an entertaining and educational journey
across the country, interviewing some of the biggest names in the
plant-based world. Visits with nutrition researchers, MDs, athletes,
a farm animal sanctuary, chefs, and vegan restaurants come together in a
presentation of life-changing information and hope for a future of better
health for all.
Website: http://goingveg.net/
Disclaimer: Please note that all external content, publications, ebooks, booklets, files etc. have been sourced from the public domain on the Internet,
and is acknowledged as such, if it has been omitted, we apologise for the omission and thank the source, the content of the website is for the use for people around the world at no cost, as a community service.
We humbly thank all the individuals, organisations and to make this enlightenment possible.
Copyright Practices: We respect and obey all copyright laws, all documents on this website have been freely obtained on the internet, if there are any documents which violates any copyright laws, we apologize, it is purely unintentional, please inform us and we will withdraw them immediately.