Fountan Supermarket in Springs is 99 Years Old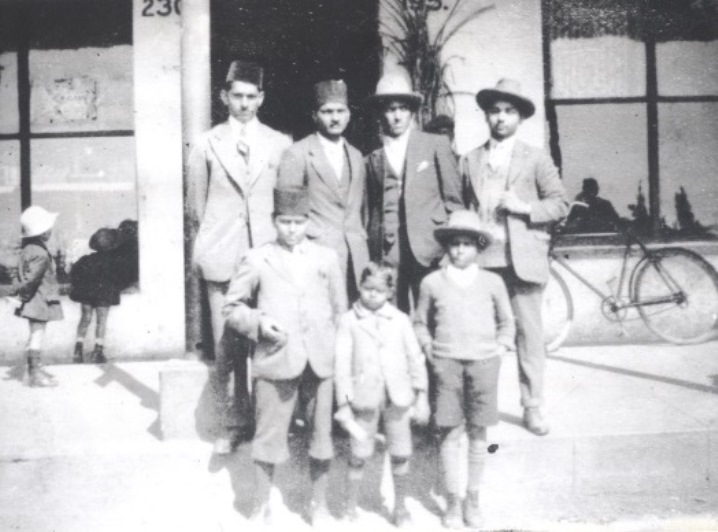 As we celebrate the 99th anniversary of Fountain Supermarket, we congratulate the Transvaal Kori Hitwardhak Mandal on its centenary anniversary. Such milestones are indeed far and rare, and as such worthy of acclamation. A centenary anniversary suggests a well-grounded organisation that thrives on noble virtues of perseverance, endurance, commitment, discipline, sacrifice, dedication and loyalty. It demands a calibre of generations that continue to bear the torch and lead as did their predecessors. The Transvaal Kori Hitwardhak Mandal's 100th year anniversary is a laudable occasion that is being recorded in the annals of history.
Well! History is being made with the passage of each day. It gains recognition after many years when significant milestones are reached. Ours is no different. The story of our family business dates back to the year 1917, when the late Mr Kanji Nana Bodalina opened a small shop "Central India Fruit Depot". But the history of the business is closely aligned to the history of the landing of Indians onto the shores of South Africa way back in the late 1800s. And every family would have a similar story to share.
Our grandfather, Mr Nana Vallabh, arrived in Durban in 1896. One can only imagine the risk taken and sacrifice made to leave one's motherland, only to create a secondary one for the generations yet to come. Our father, Mr Kanji Nana Vallabh, a young lad of 15, landed in Durban on 02 July 1908 after a tiring journey by sea. He was later incorrectly registered in South Africa with the surname 'Bodalina' because we hailed from the village Bodali in, Navsari, Gujarat. He made his way to Johannesburg, to meet his father, who at the time was residing in Johannesburg. While commuting to Johannesburg, he was stopped at Volkrust, the border of Natal and Transvaal (now Gauteng) and arrested by the South African authorities as he did not have a valid permit. Mr Nana Vallabh immediately approached Gandhiji for assistance to have his son released. Mahatma Gandhi, a practicing attorney then, wrote a letter to the authorities, which was presented in Volkrust. This very letter, the original of which is still in our possession, served in releasing young Kanji. He then joined his father in Johannesburg and began working at this tender age.
My father first worked as a cook for Multani's and then started hawking clothes in the Crown Mines area, using only a basket to carry the clothing. Such was his determination and perseverance that his measly hawking 'business' culminated in him opening his first 'store-business', becoming the first Indian to secure a business licence in Springs. The Central India Fruit Depot was started in 1917 at 1c First Avenue, Springs. He subsequently opened 3 other businesses. His success led him to opening his second business in 1928 called the Calcutta Market, General Dealers and Fruiterer on 35a Plein Street, Johannesburg. On 2 January 1930 he opened Union Silk Bazaar. Union Silk Bazaar was located on the Corner of Eloff and Prichard Streets, Johannesburg, where he sold silk materials and similar fabrics. Finally, he established a small restaurant in Bakerton, Springs.
Central India Fruit Depot became the heart and soul of Mr Kanji Nana Bodalina. This store was later named Fountain Fruit Café because it was situated opposite a fountain. The café was eventually managed and continues to be managed by his two younger sons. It was extended into the second phase with two entrances and was converted into a supermarket. In the 1980s, the name changed to Fountain Supermarket. Now the business has three entrances and continues steadily as it is fast approaching its 100th year of existence. Of the four businesses established, Fountain Café remains Kanji Nana's most successful venture.
He lived his life to play fairly, to tend to one's family honestly and to generously serve the community. Virtues of tenacity, endurance, honesty and integrity are the lessons we have learnt from our father. More importantly, Kanjibhai keenly believed in preserving our Indian Heritage. To achieve this, we continue to improve the condition of our family home in India for the many generations to come. Our farm in India is fully operational with over 300 mango trees. Just as in India, a farm of 120 hectares was started and developed in Springs in the 1980s by the younger sons, which serves to realise the dreams and vison of our parents and forefathers. This is a lesson for all of our youth – to preserve our Indian heritage by preserving our roots in India, to feed it and nurture it for the many still to come.
Today we celebrate the 99th anniversary of Fountain Supermarket! Just as the fountain flows and adds beauty and serenity to all those who pass by, in the same way, we hope that our humble business will continue to serve all those who patronise it for years to come. We thank all our clients, suppliers and well-wishers for their relentless support.
Strange as it may seem, our real story has just begun…
Madan Kanji Bodalina
[email protected]