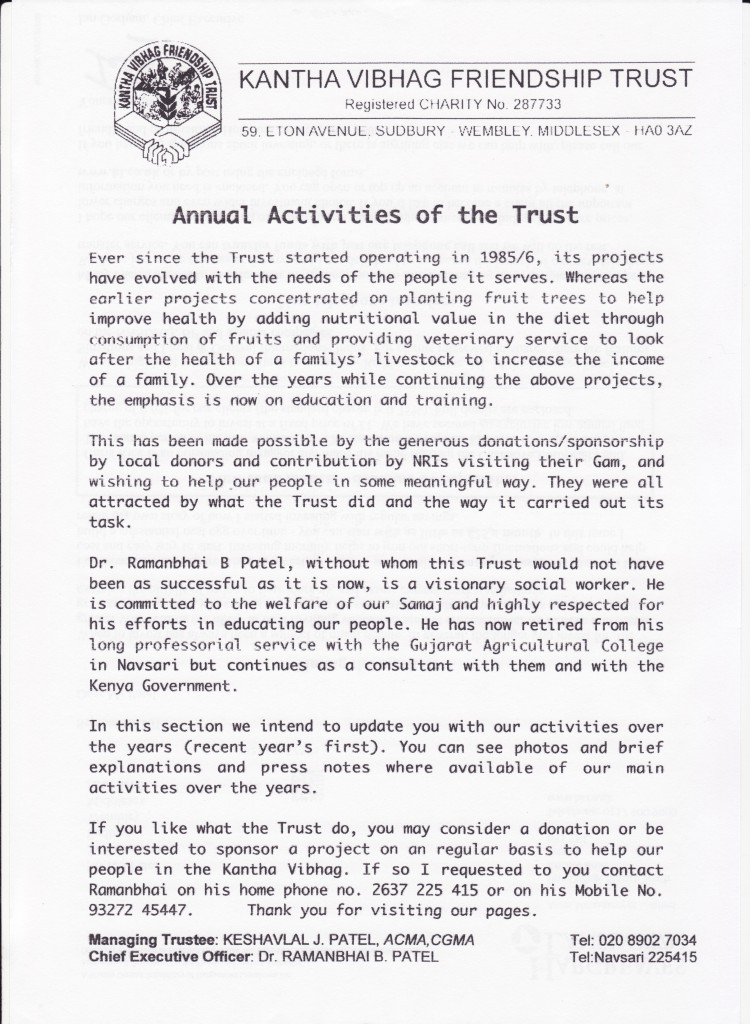 KVFT – Activities for the year 2014
  Career Guidance for school leavers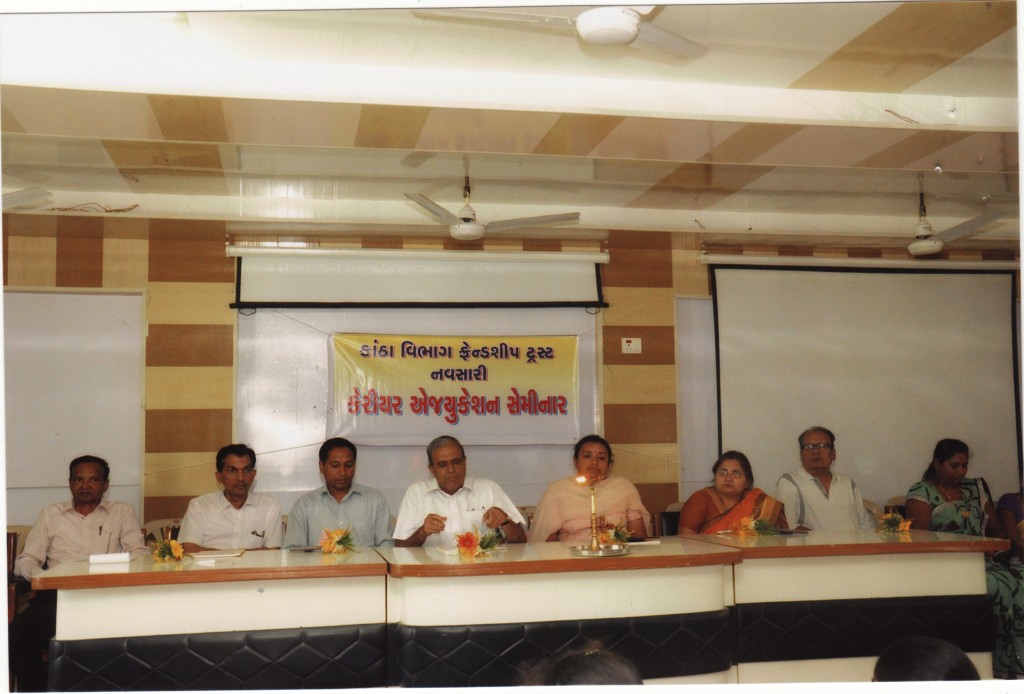 FVFT organises three to four career guidance seminars each year for Students who leave school after standard 10 or 12.
After standard 10 students either drop out or do a short technical course. After standard 12 they can drop out or go on to a college or an university.
We invite educational professionals to guide these students as to what course may be most suitable depending on the subjects they have passed.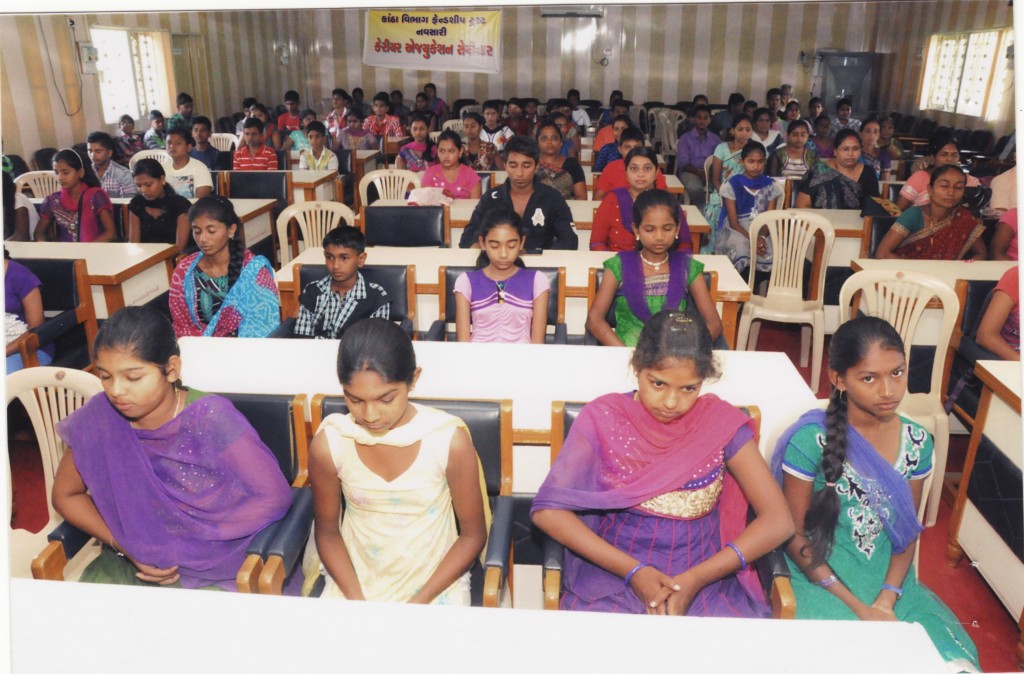 Each programme starts with a prayer.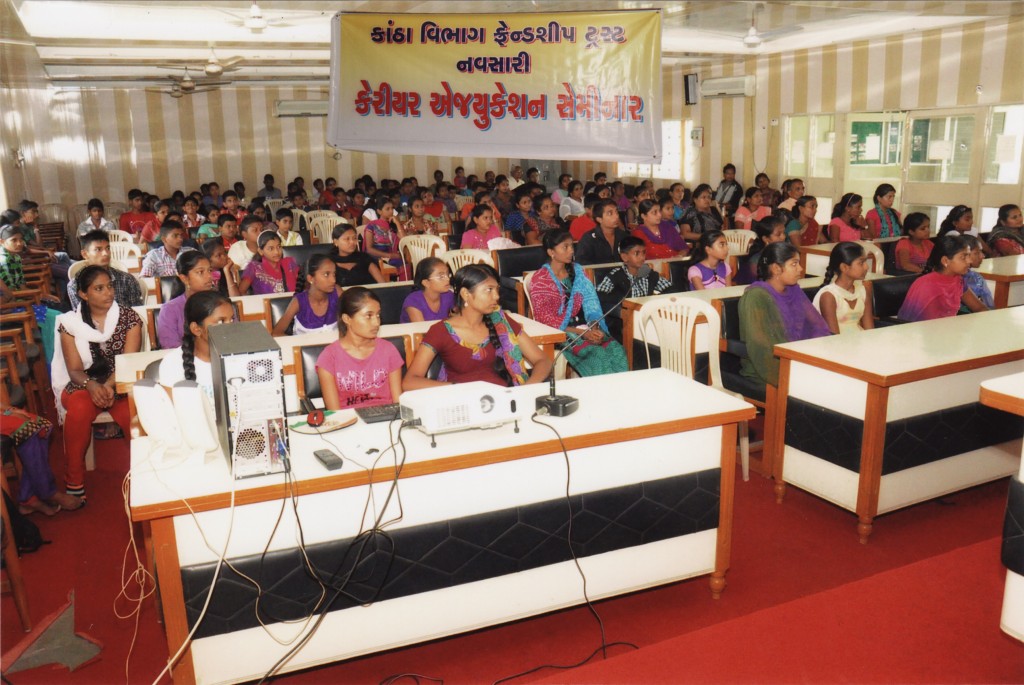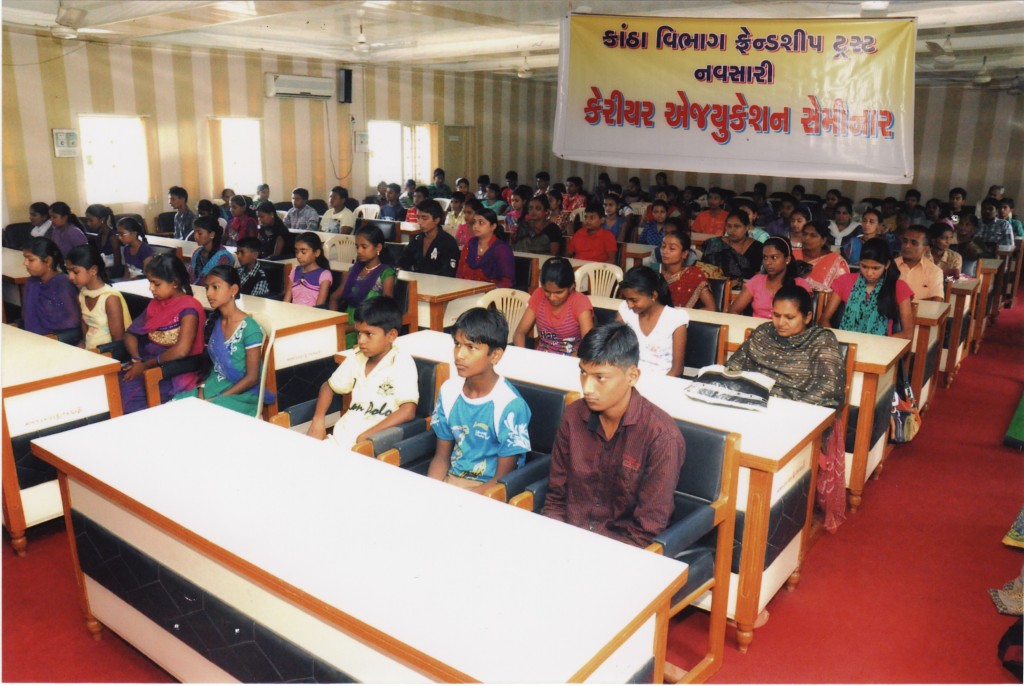 Youth Leadership and Educational Seminar
 Shree Amratbhai Jerambhai Patel (in blue Shirt) And Shreemati Taraben Amratbhai Patel of Machhad are residents in USA. Both are a generous donors
of our Samaj. They visit Gam almost every year and sponsor a number of project in Machhad, other Kantha Vibhag gams. They are
particularly interested in educational projects which we organise year after year. Their generous sponsorship help students with scholarships and
various educational seminars for the students.  This Leadership Seminar was hosted by them and was held on 12th April 2014.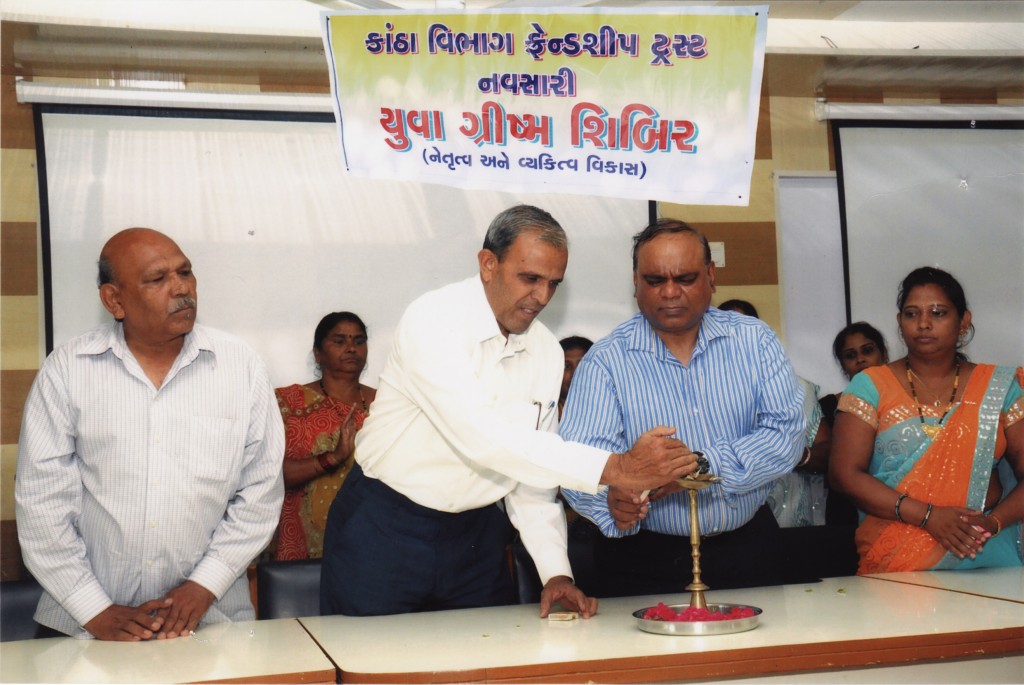 Candle being lit by a participating youth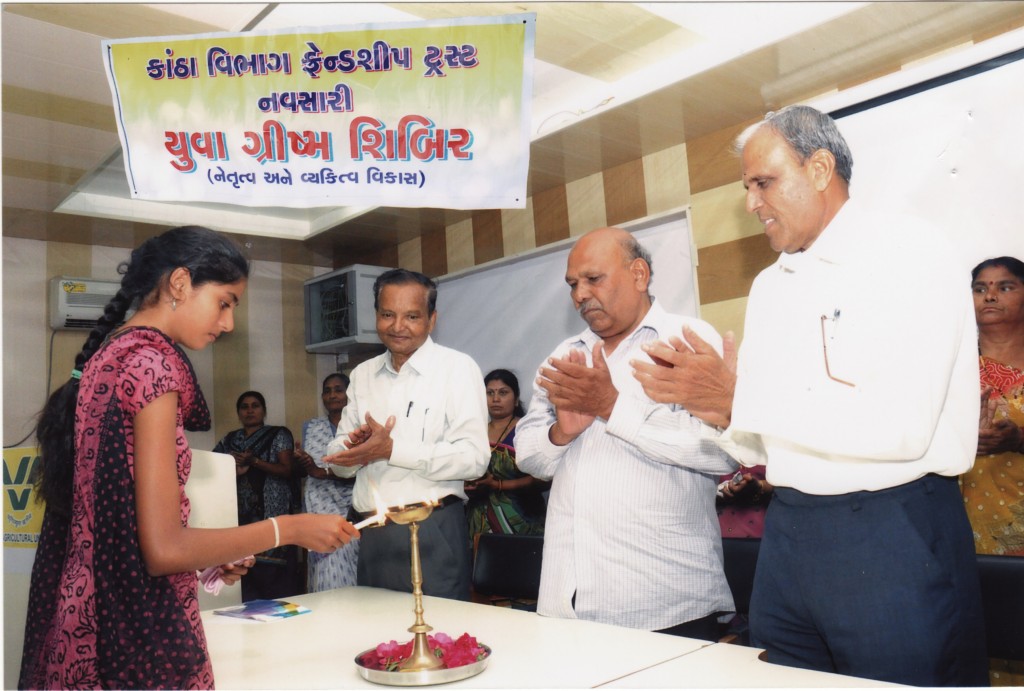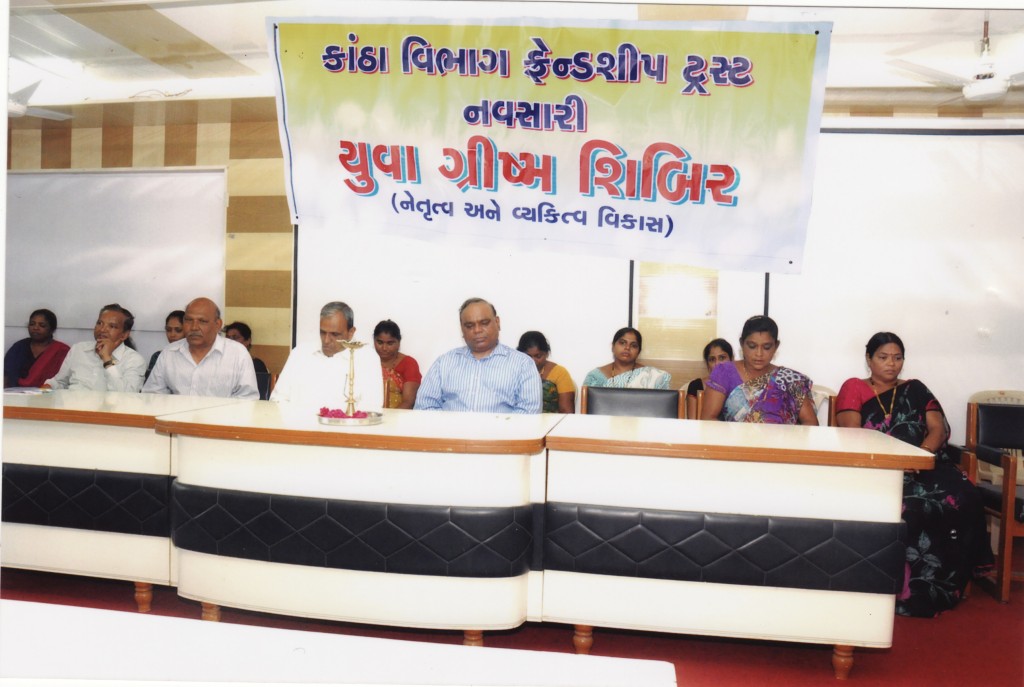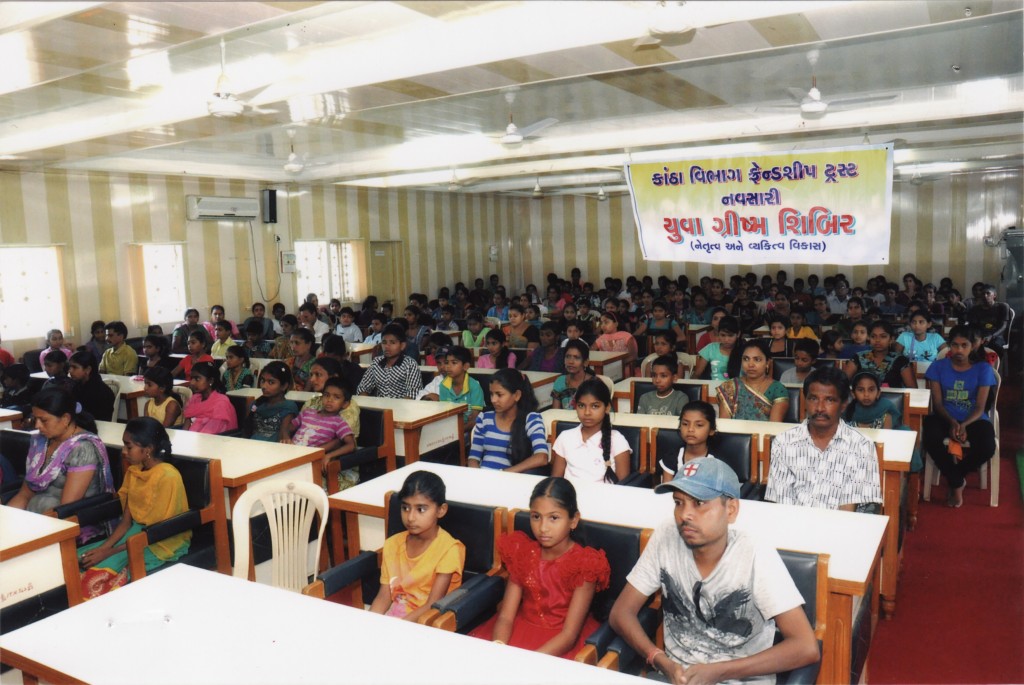 Skill Training and self-employment Project
Skill Training and self-employment Project for women takes a number of different skills. We have a number of sewing  machine
and Ushaben as the trainer. We have a revolving scheme whereby we take five or six sewing machines to a village. The course lasts for
three months and ten to fifteen women/girls participate. After training in one village the machines are moved to another village.
This course was held in Jalalpore in April/June period.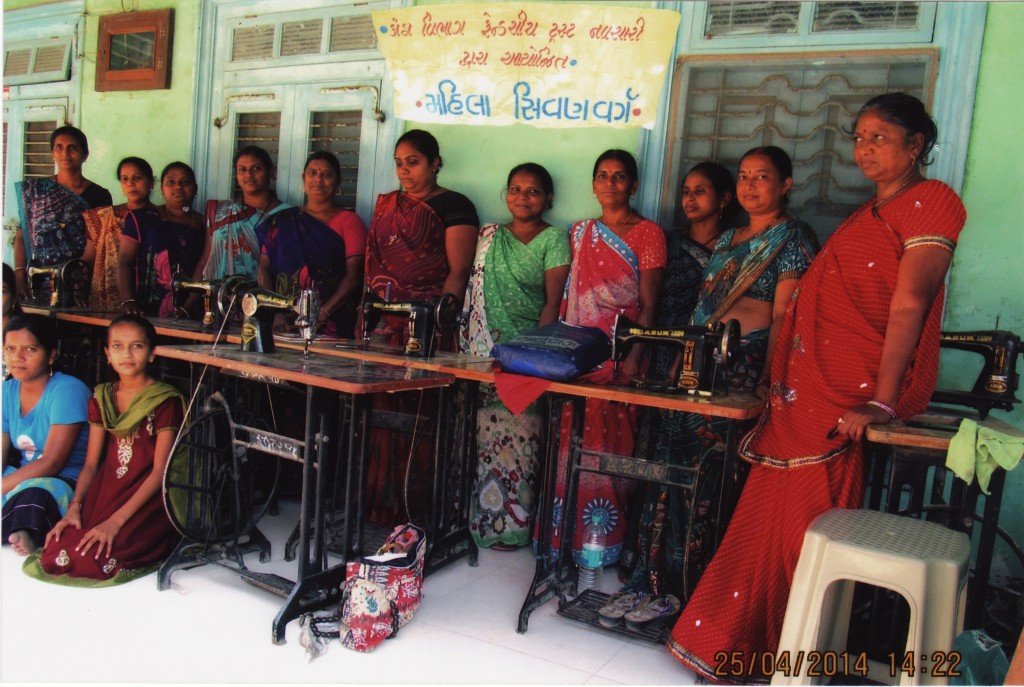 The following two photos show the participants in a Beauty Parlour Training. Shielaben in the centre trains the girls in this skill.
This class was held for the girls from Dandi and Matwad.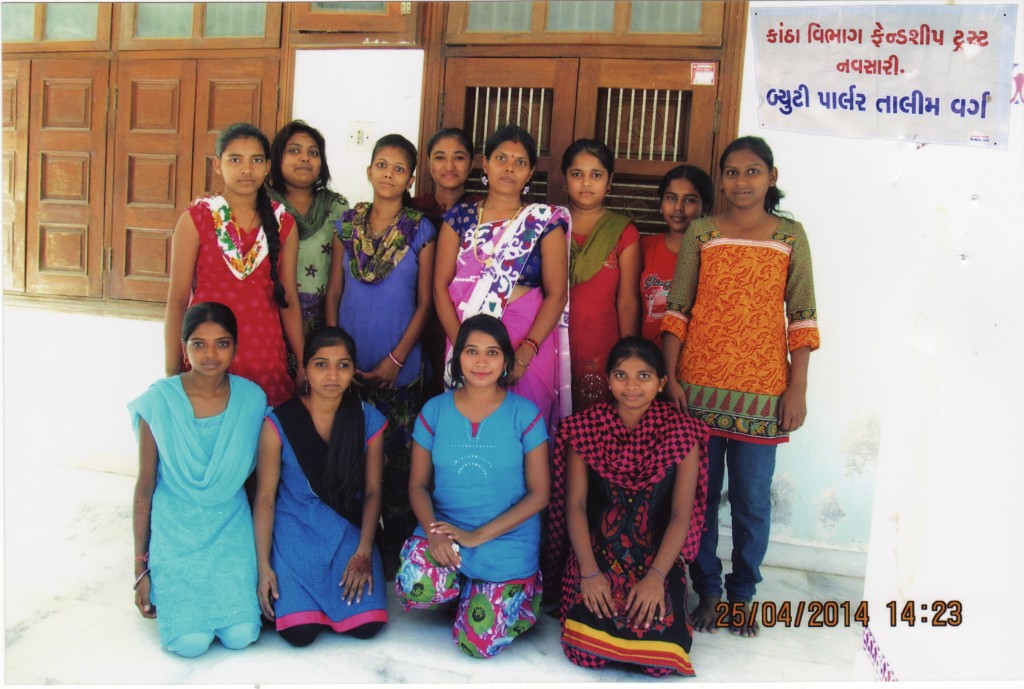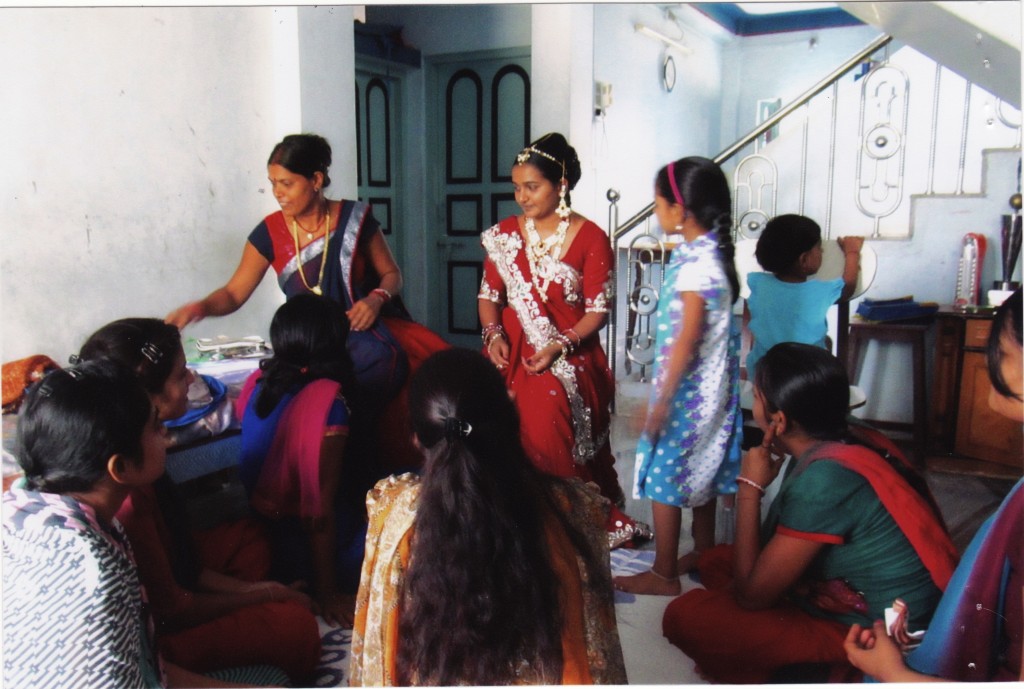 Here Shielsben is demonstrating how a bride is beautifully made ready for her big day.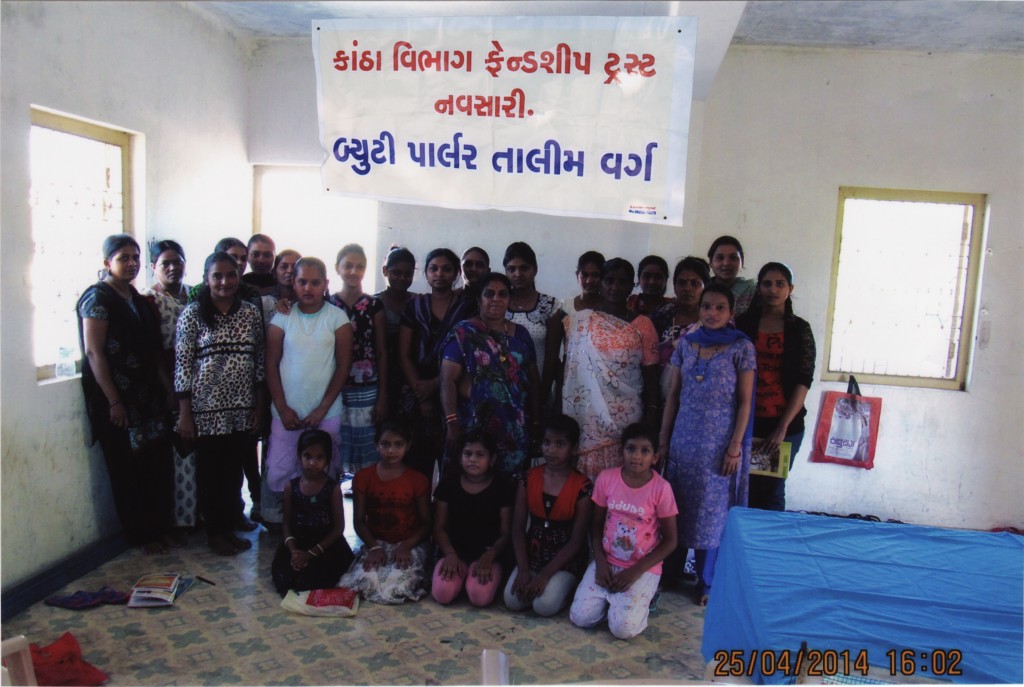 The participants and children are from Karadi and Kothamdi.
Educational Seminar
Another educational programme sponsored by Shree Amratbhai Jerambhai Patel.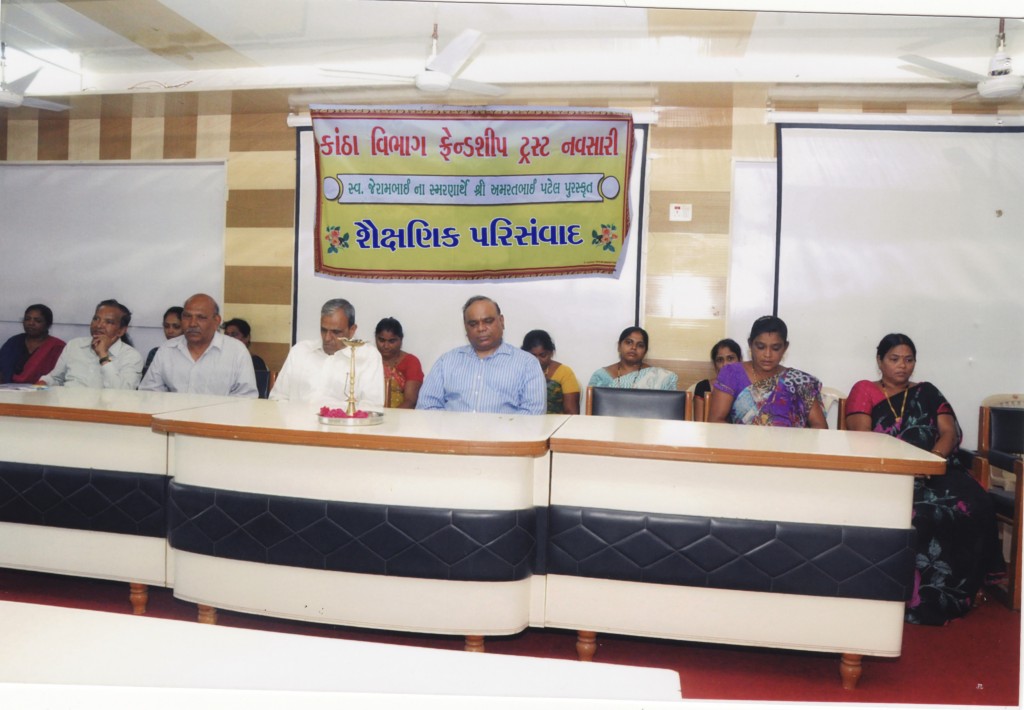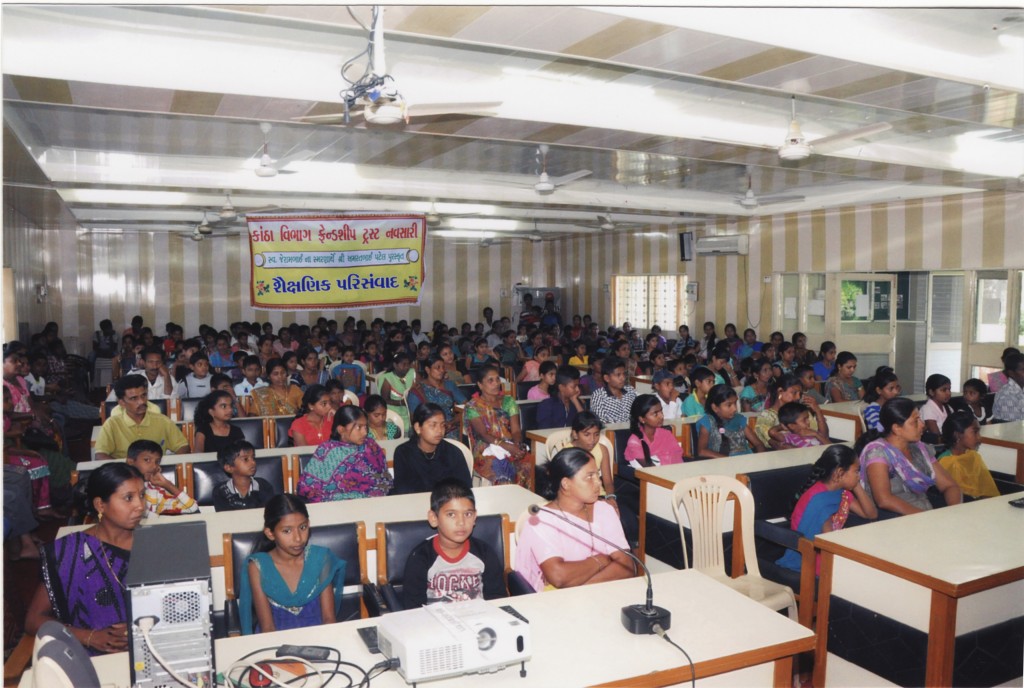 Grain Distribution to the poorest families.
Encouraging Education for the children of the poor and helping these families is Amratbhai Jerambhai Patel's main interest.
Here he is seen starting off a programme of grain distribution (20 Kilo bags of wheat or rice).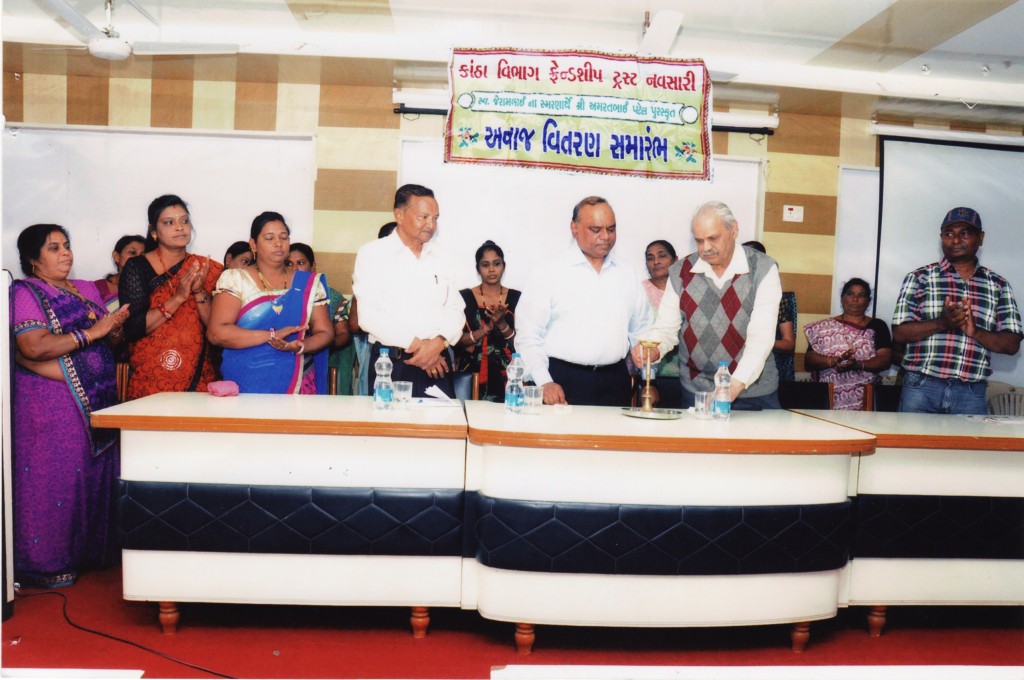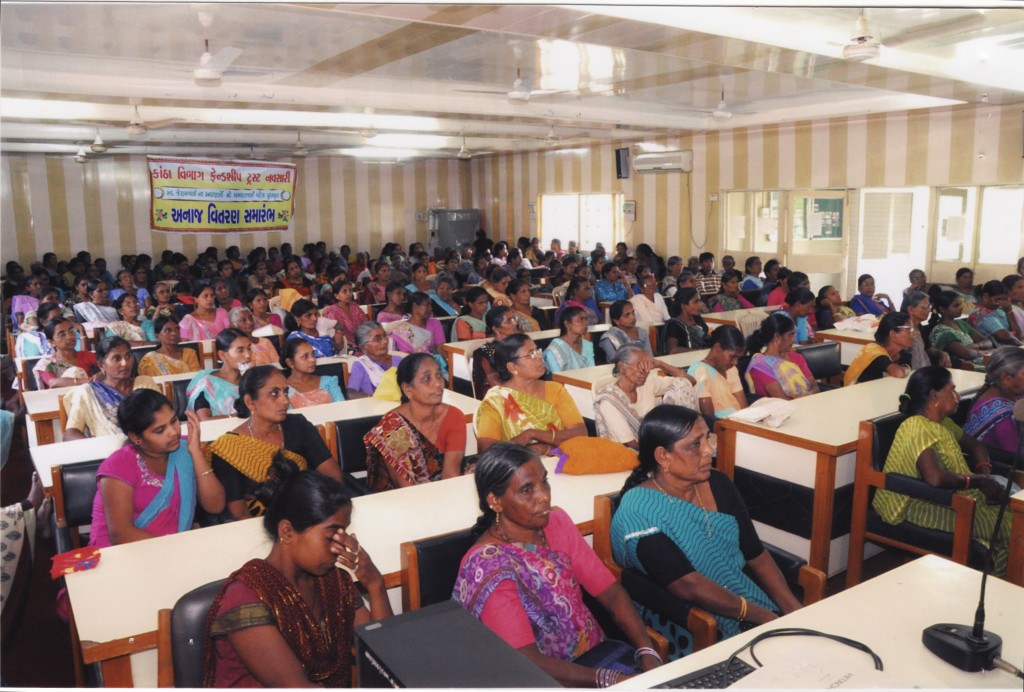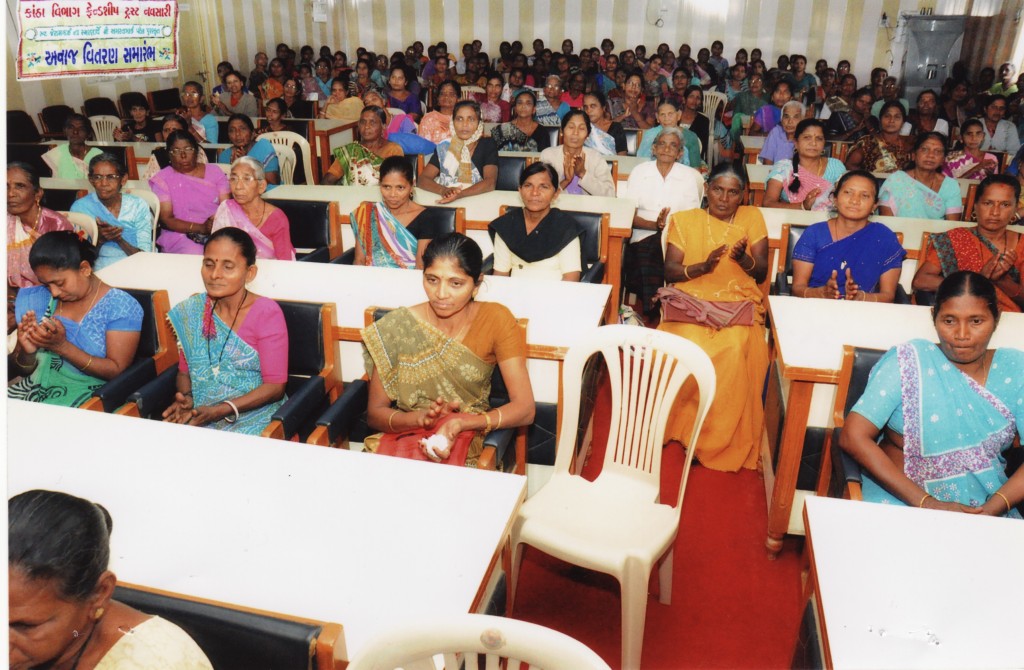 Distribution of School Kits to Single parent families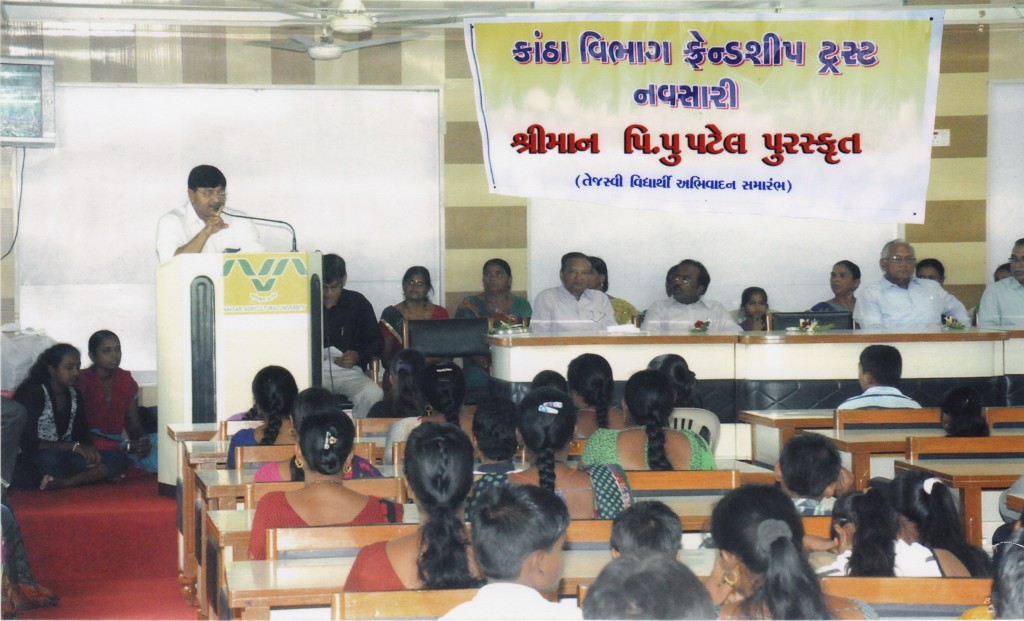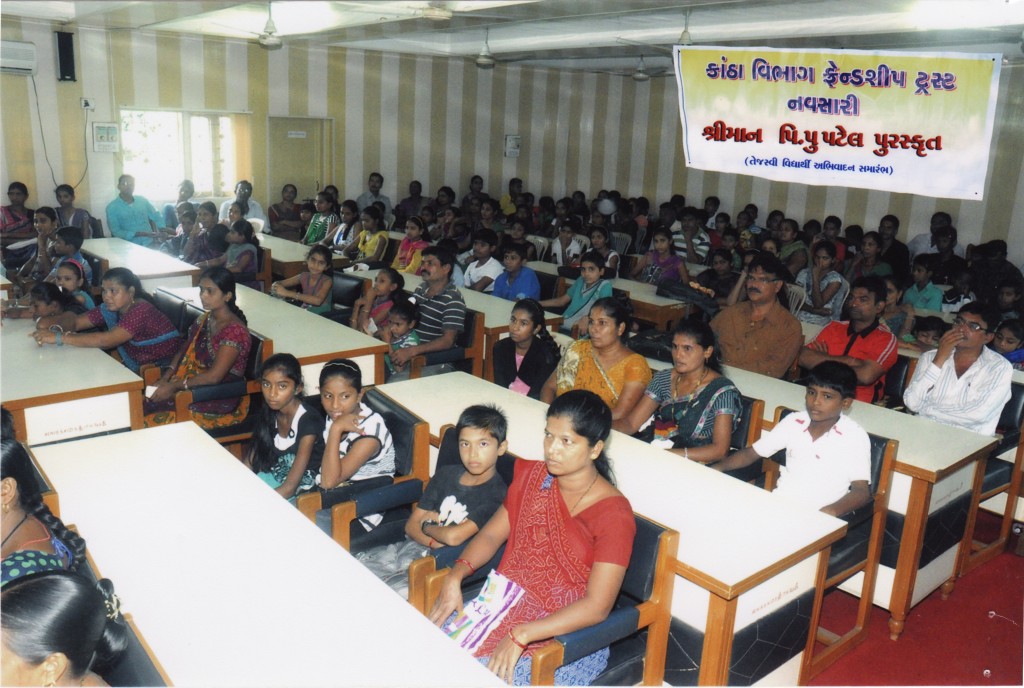 Another similar distribution to single parent families sponsored by Kishroebhai and Bipinbhai of Canada.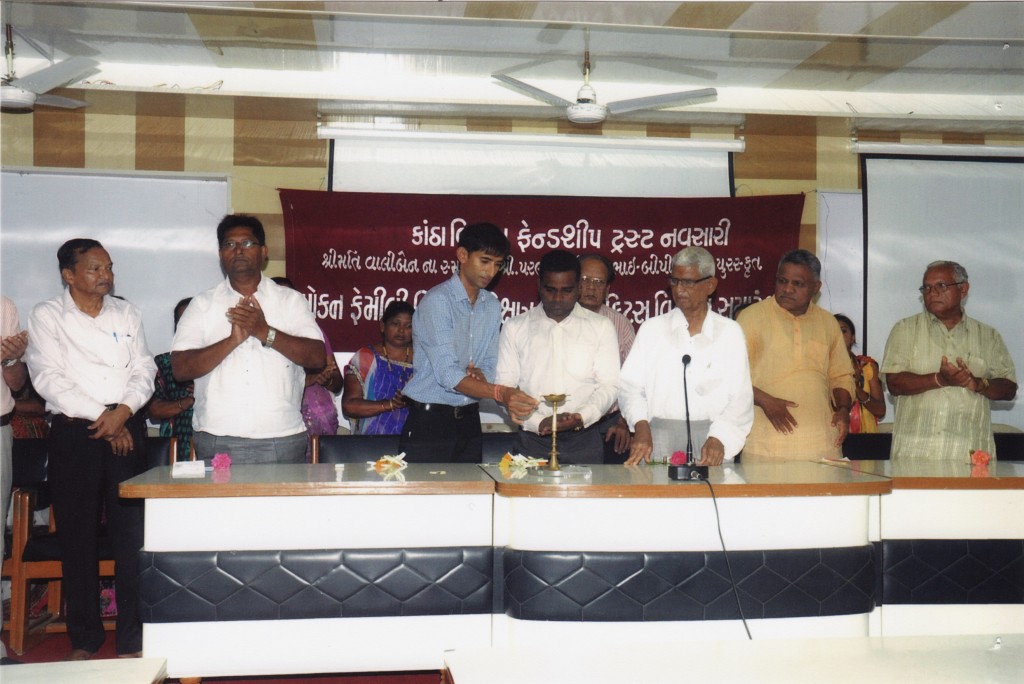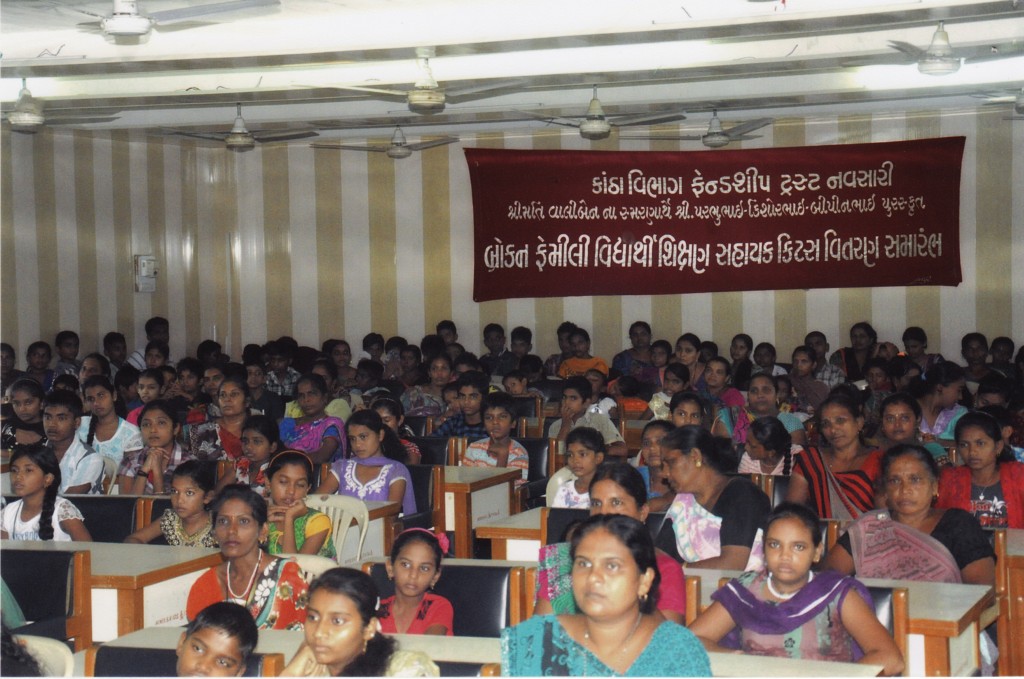 Fruit Trees Distribution
This is part of our original activity. At this particular programme which took place at Gandhi Kutir in Karadi on 9/8/2014  a total of 300 coconut plants, and 500 each of Jamphal, Sitaphal and cherry plants were distributed. Leaflets giving details of planting and after care of the plants were also given out.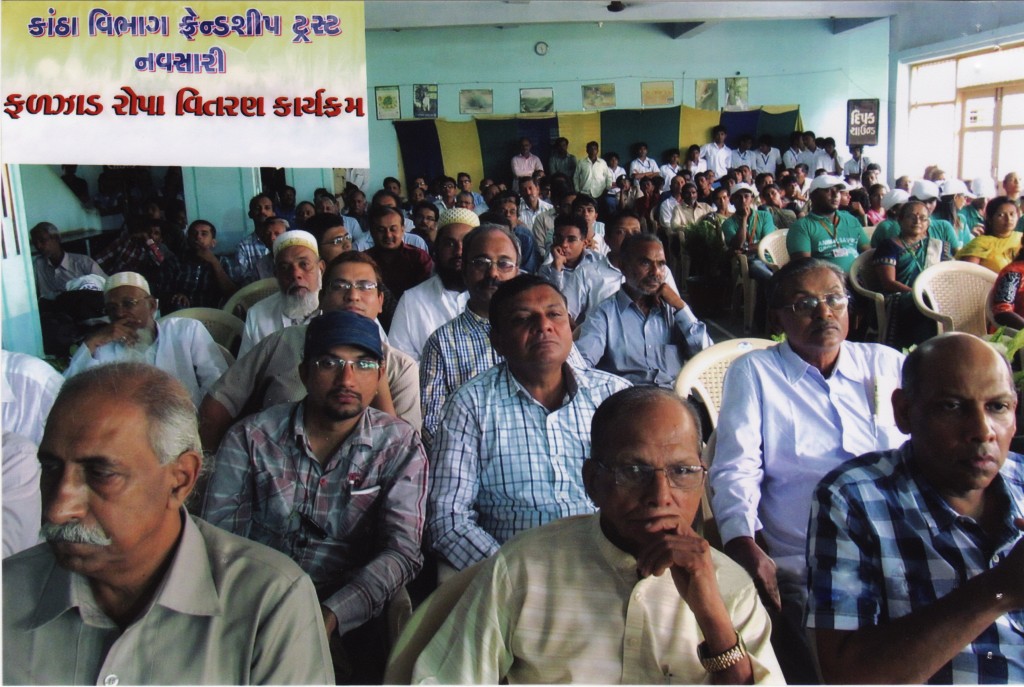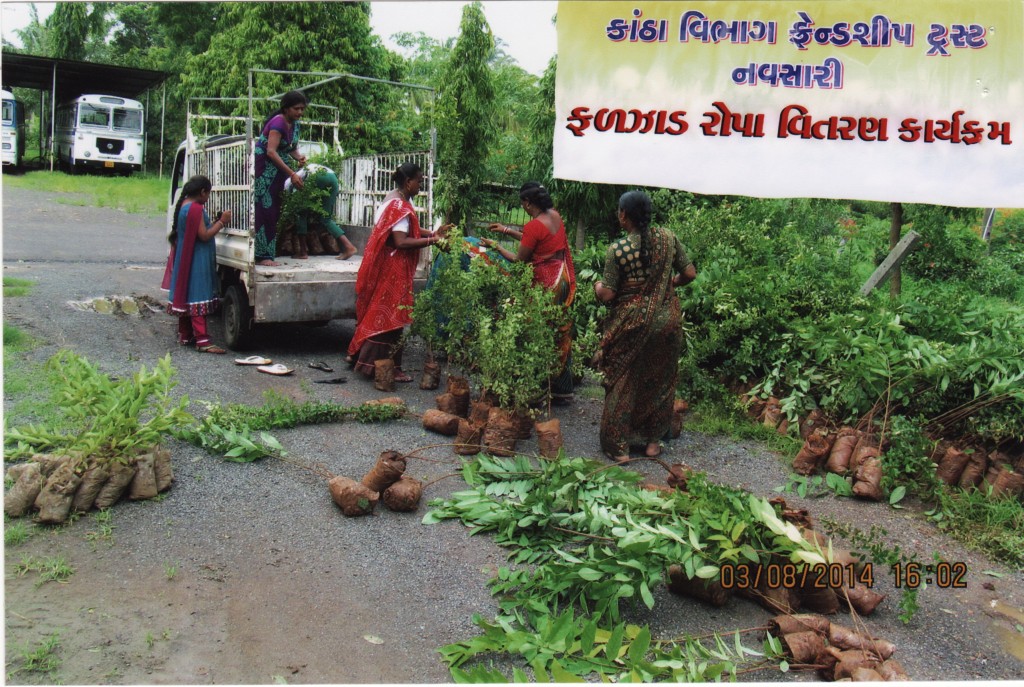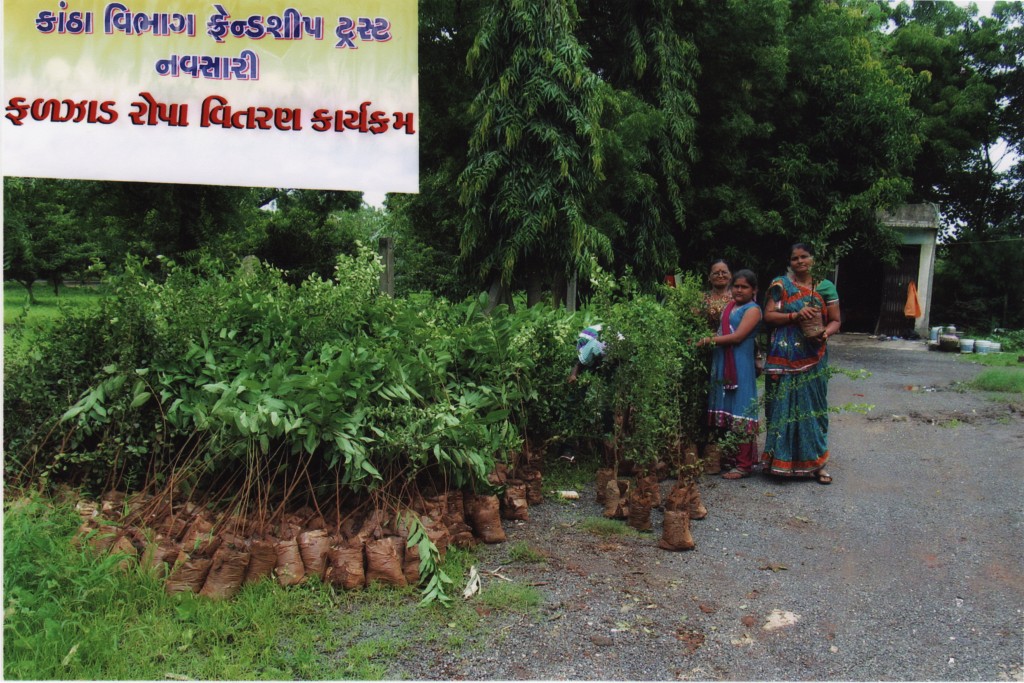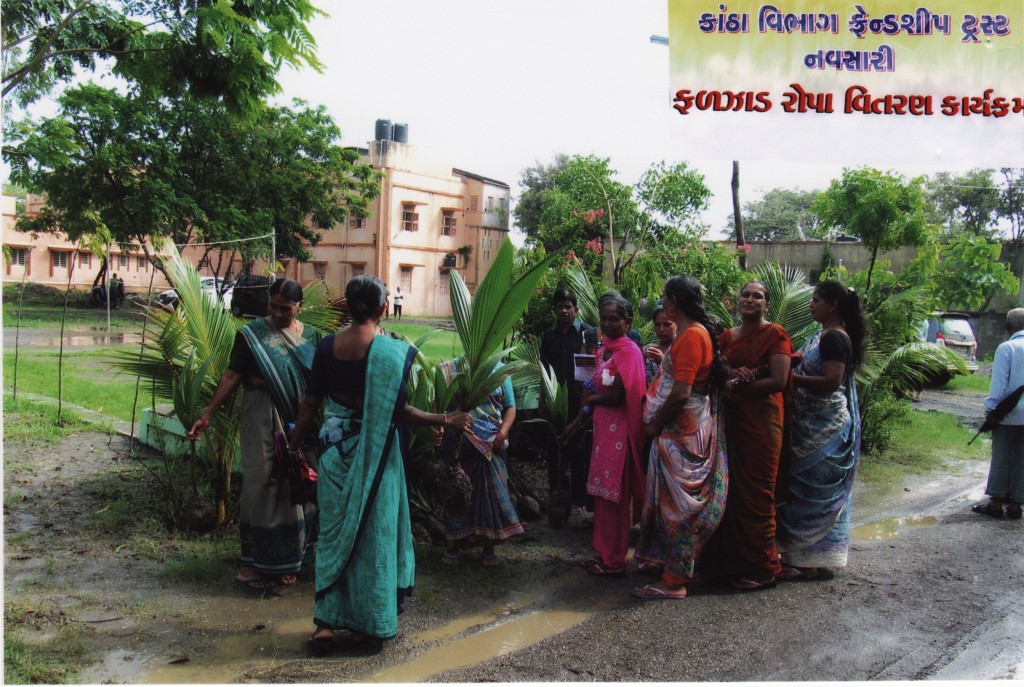 Encouraging Education in our District
Mehandra Brothers and family sponsor a regular programme of encouraging education for our youth.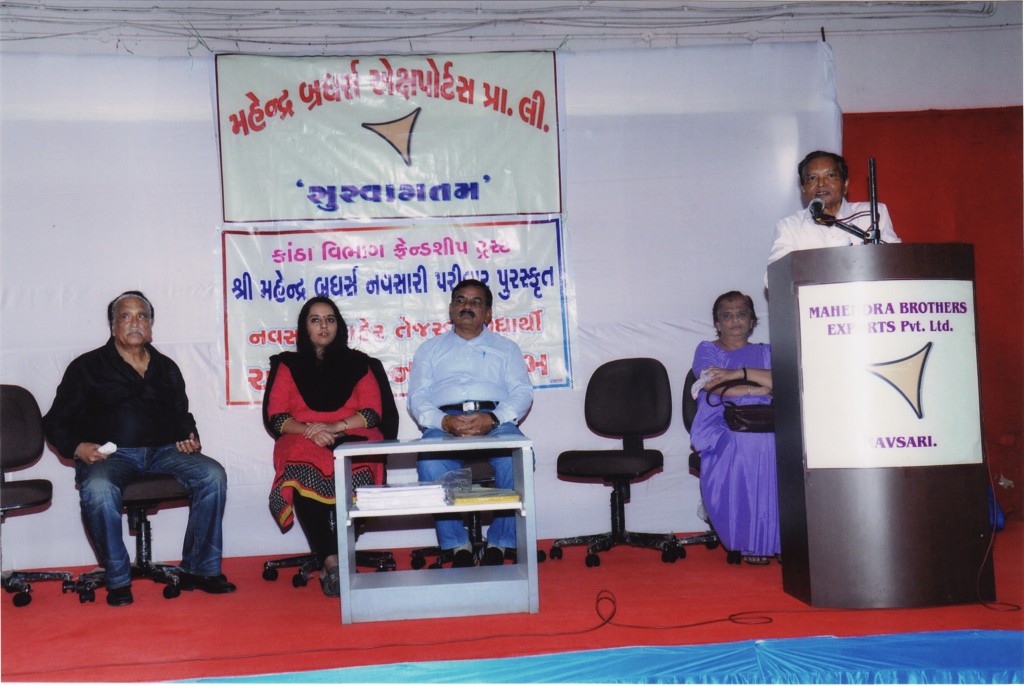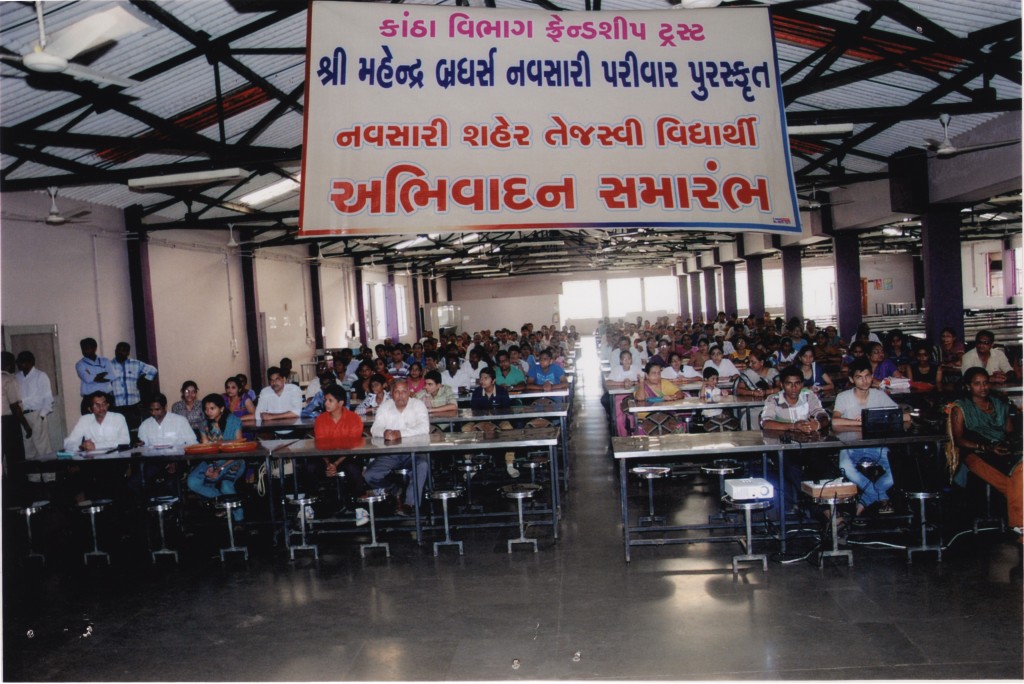 School kits being distributed to poor children.
Shree P.U.Patel sponsors a number of such programmes.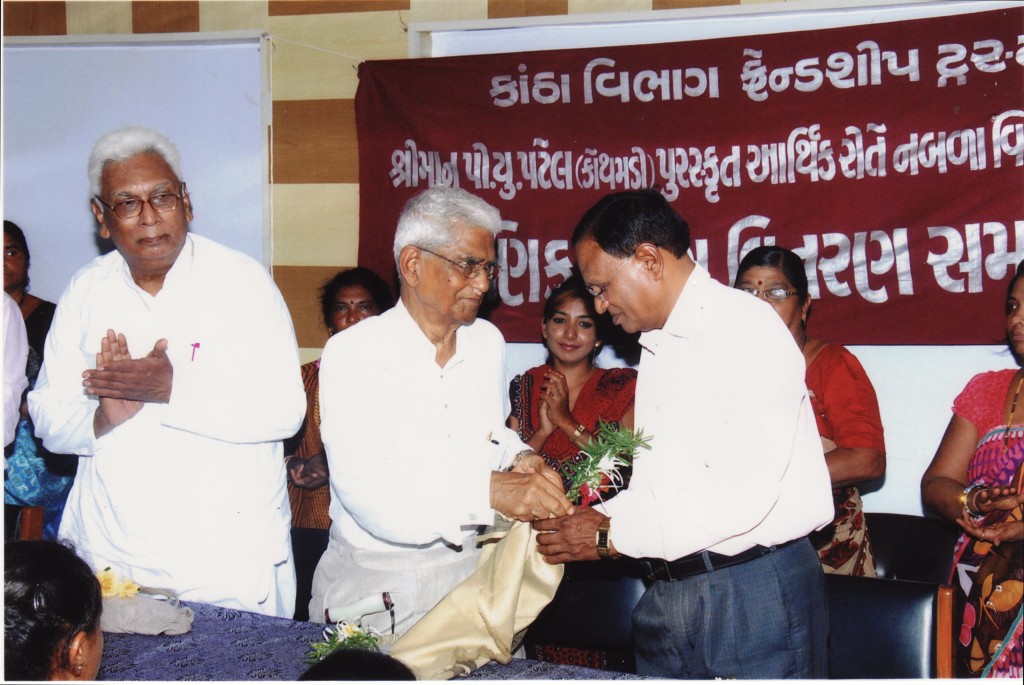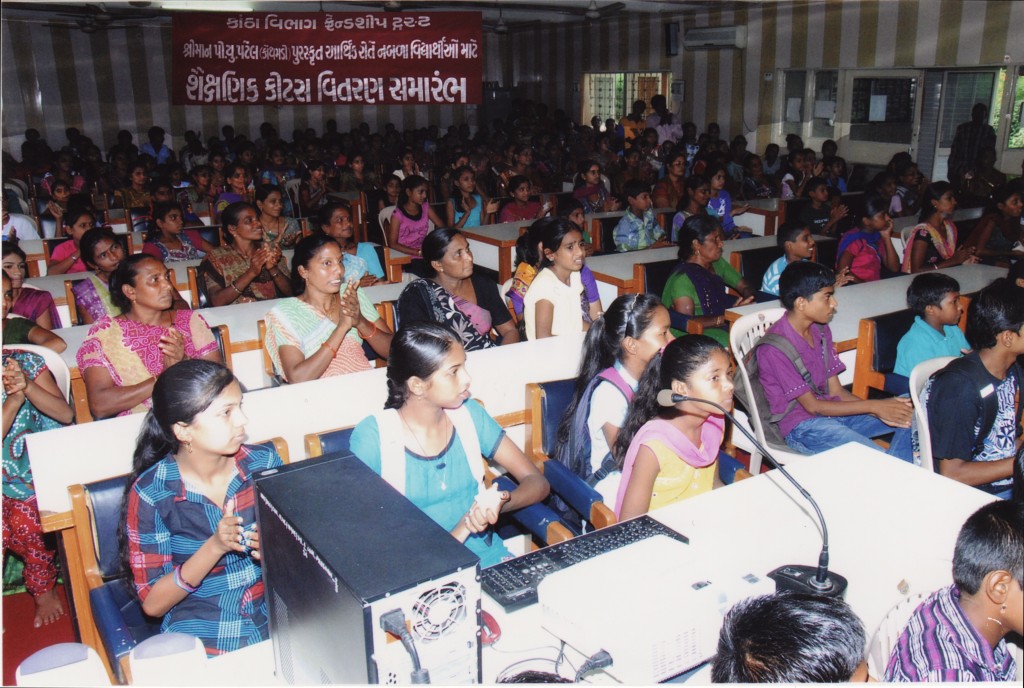 Bhajanotsav in memory of Late Mrs Valiben Hirubhai Patel
Shree Hirubhai Valabhai Patel has been sponsoring this Utsav ever since the Trust's activity started. This is the 30th such event which attracts some 40 village groups.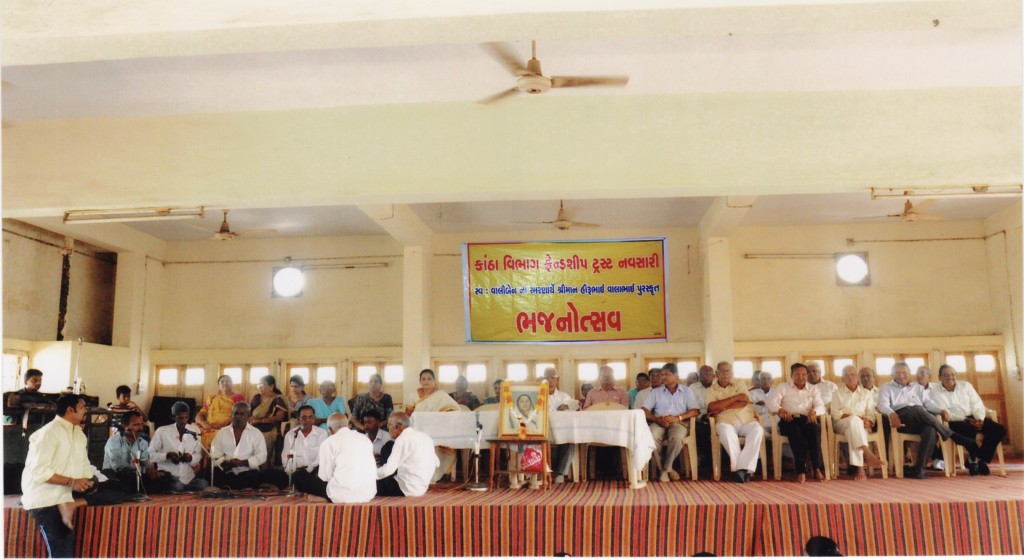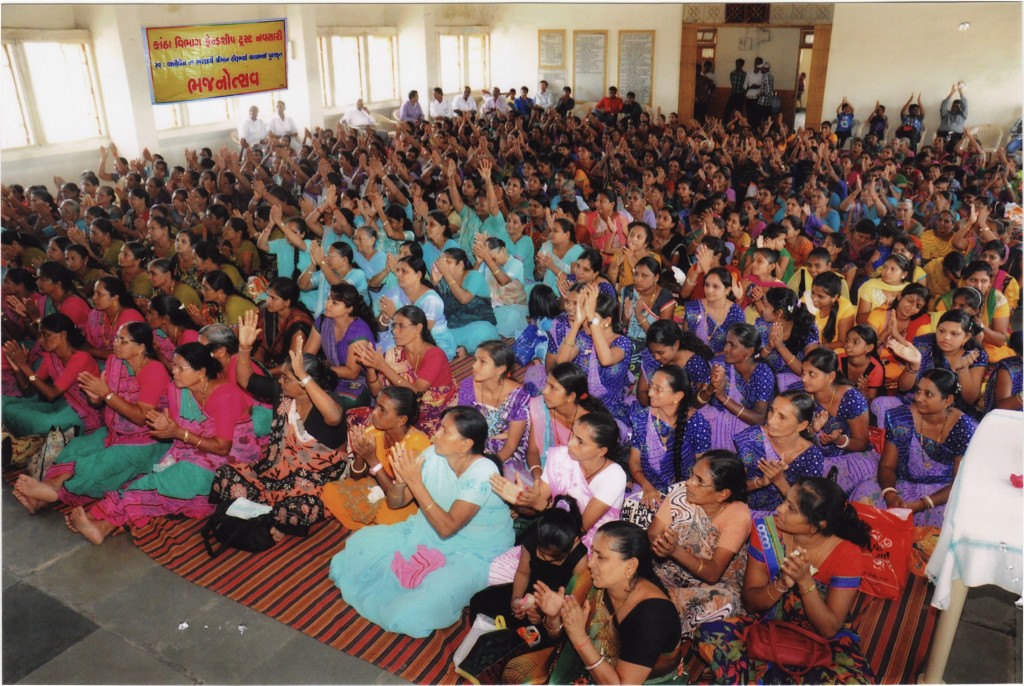 Kantha Vibhag Friendshipp Trust for the Year 2013
Bhajanotsav.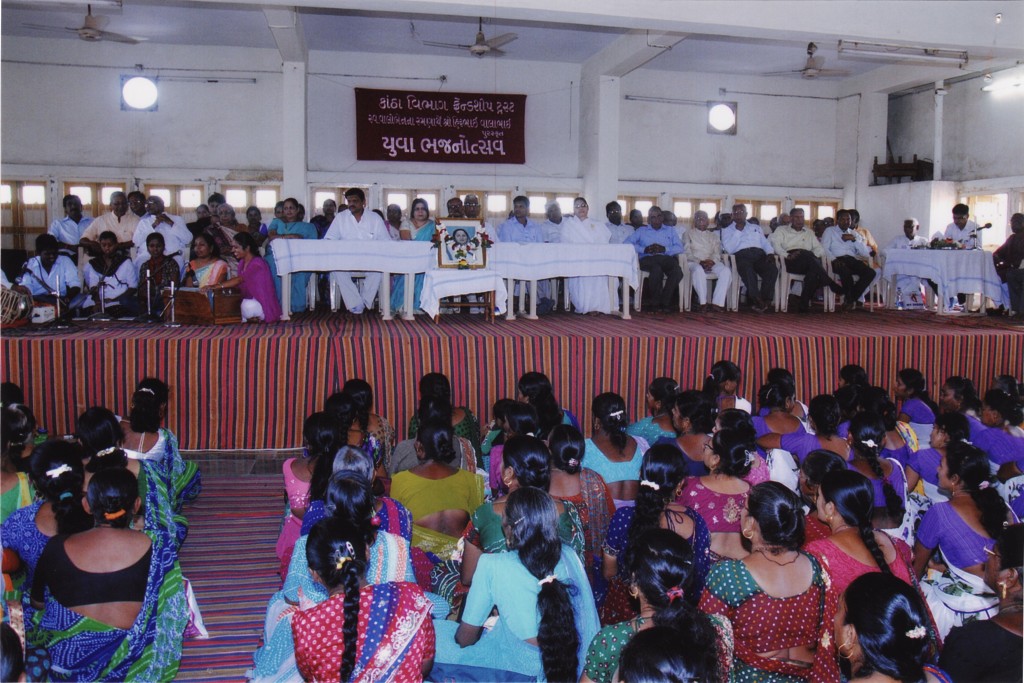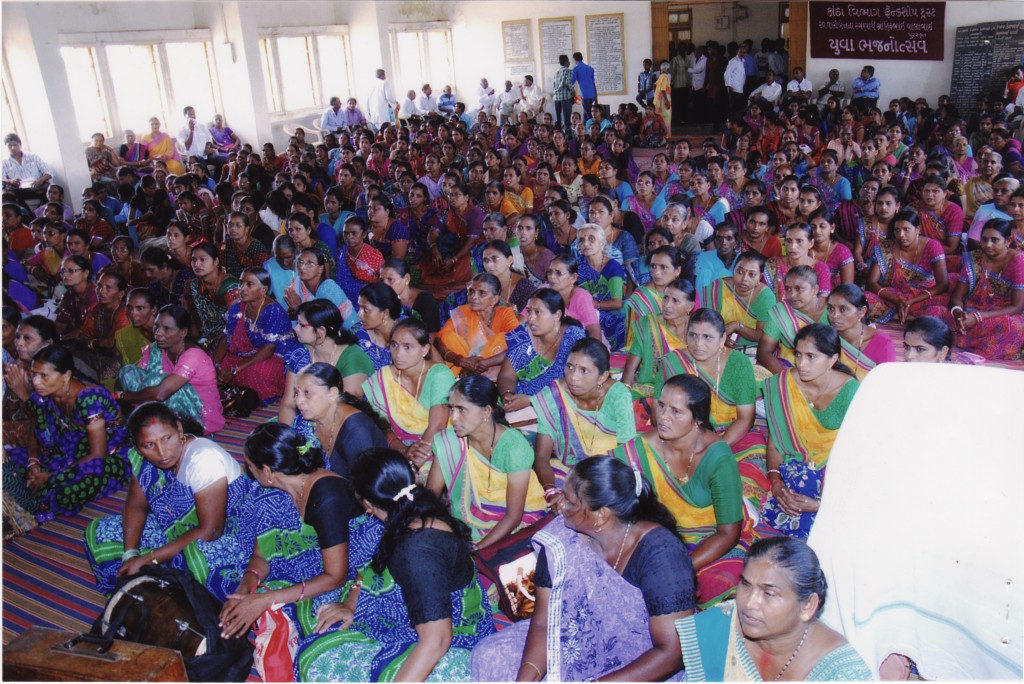 Another programme of School Kits Distribution sponsored by Kishorebhai and Bipinbhai of Canada.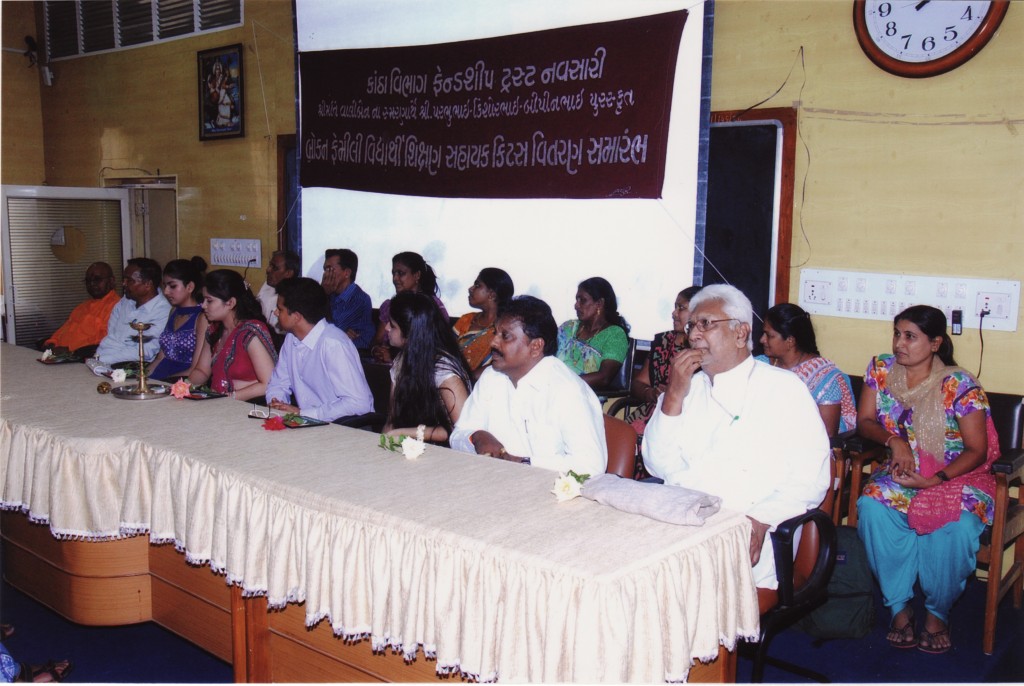 In Memory of Late Shree R. C. Patel of Maroli.
This yearly programme is sponsored by Late Shree R.C. Patel's widow Mrs Gitaben and daughter Nehaben who is on the committee of the Trust.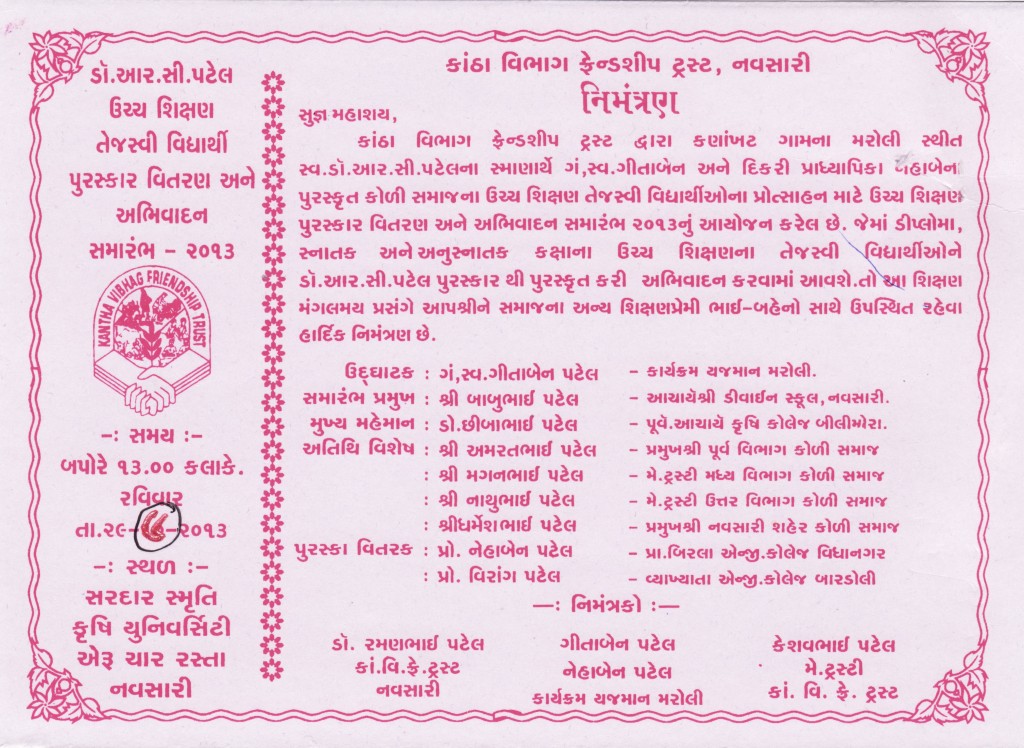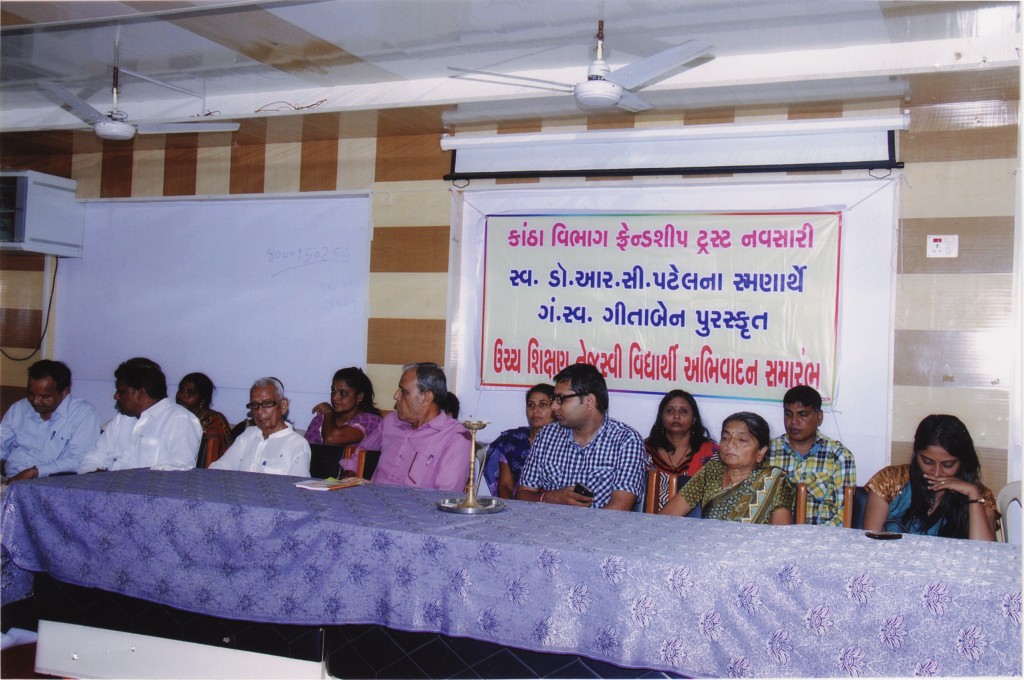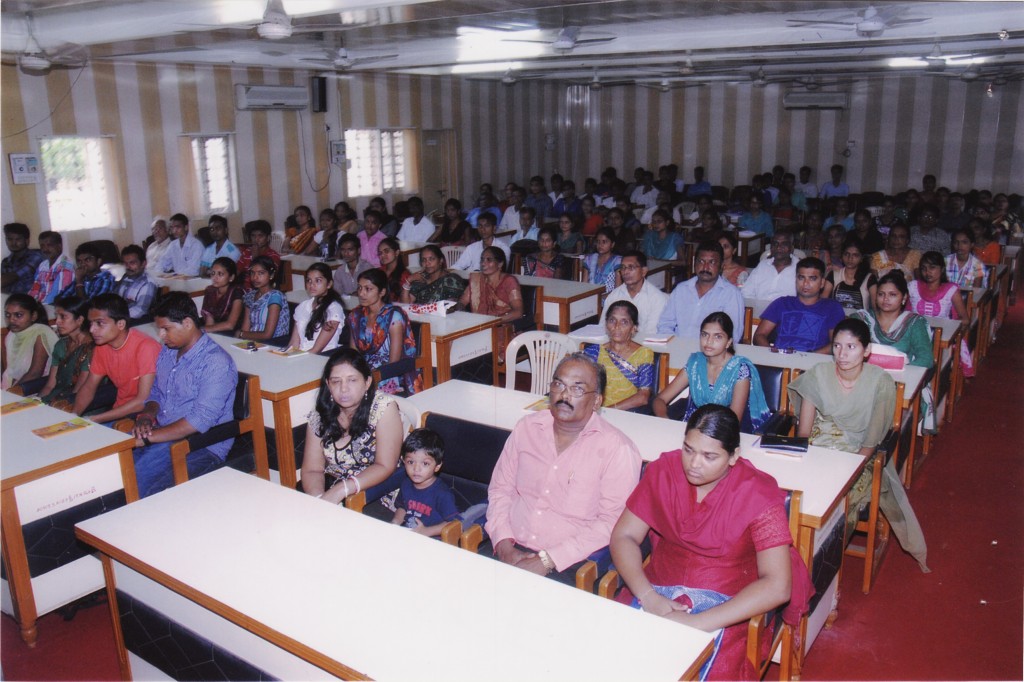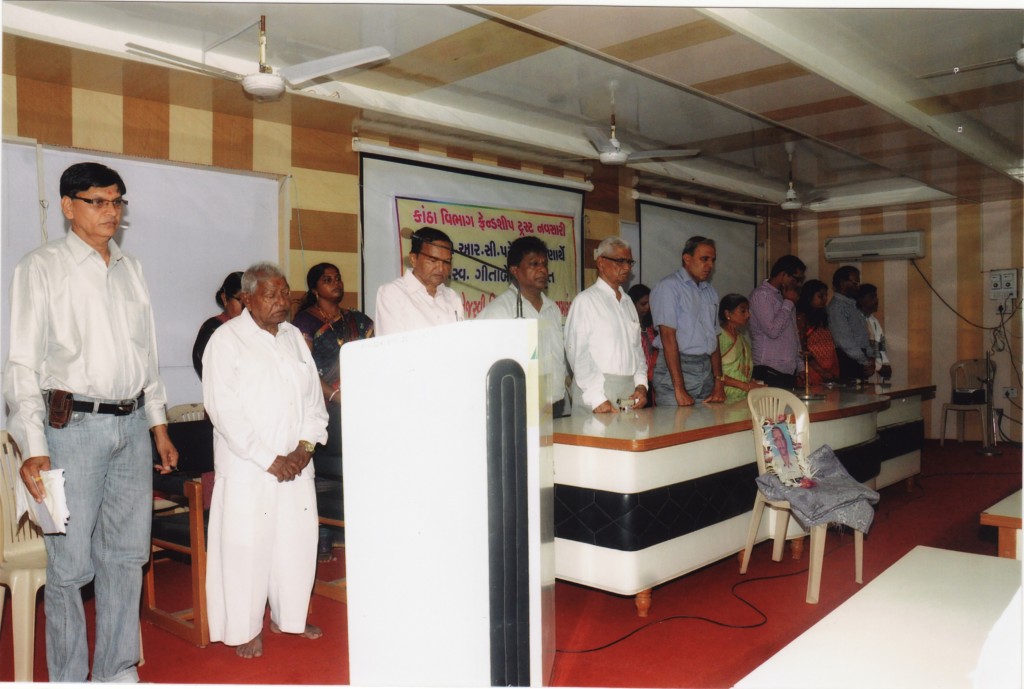 Garba Mahotsav
This yearly programme has been going on for the last 27 years.  Earlier programmes were sponsored by Shree Shantubhai B. Patel of Dandi and Shree Babubhai Rama of Karadi both living in UK. This event generates a lot of interest and healthy competition among the 35+ village Garba Teams.
This year the programme has been sponsored by Shree Sumanbhai Patel of Kalyavadi in memory of Late shree Ghelabhai Jivanjibhai Patel.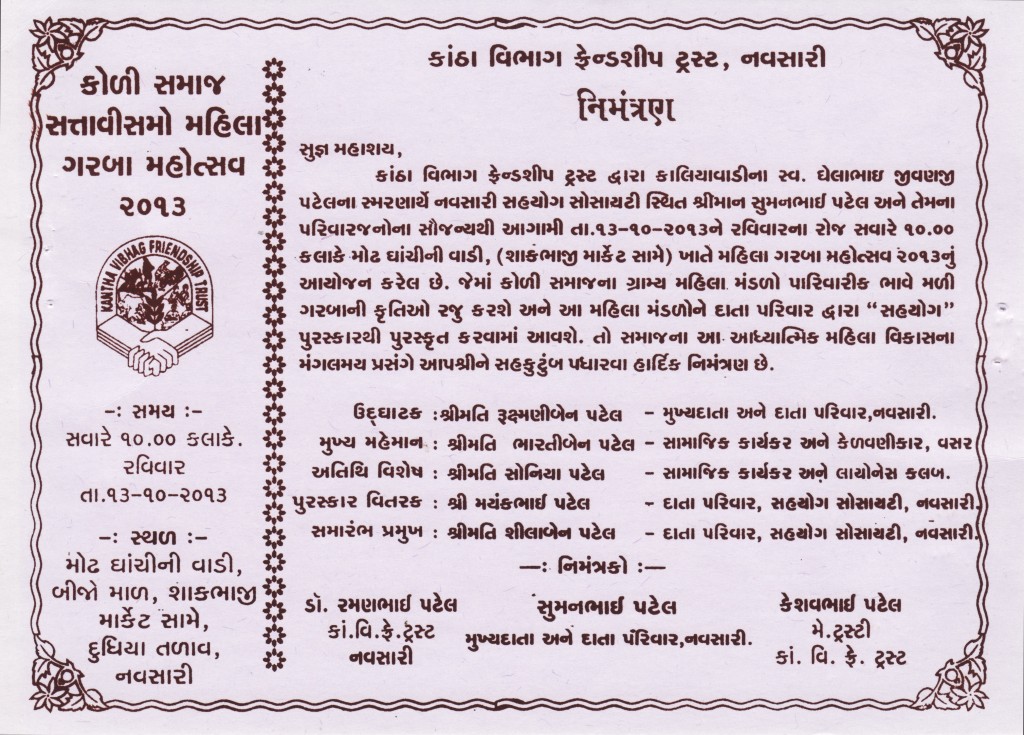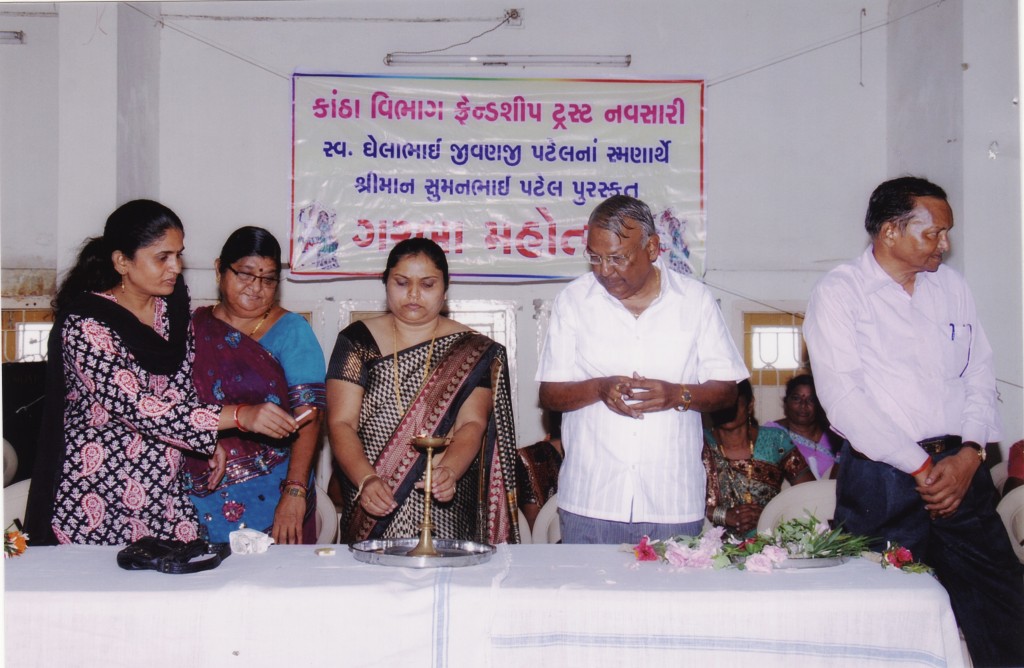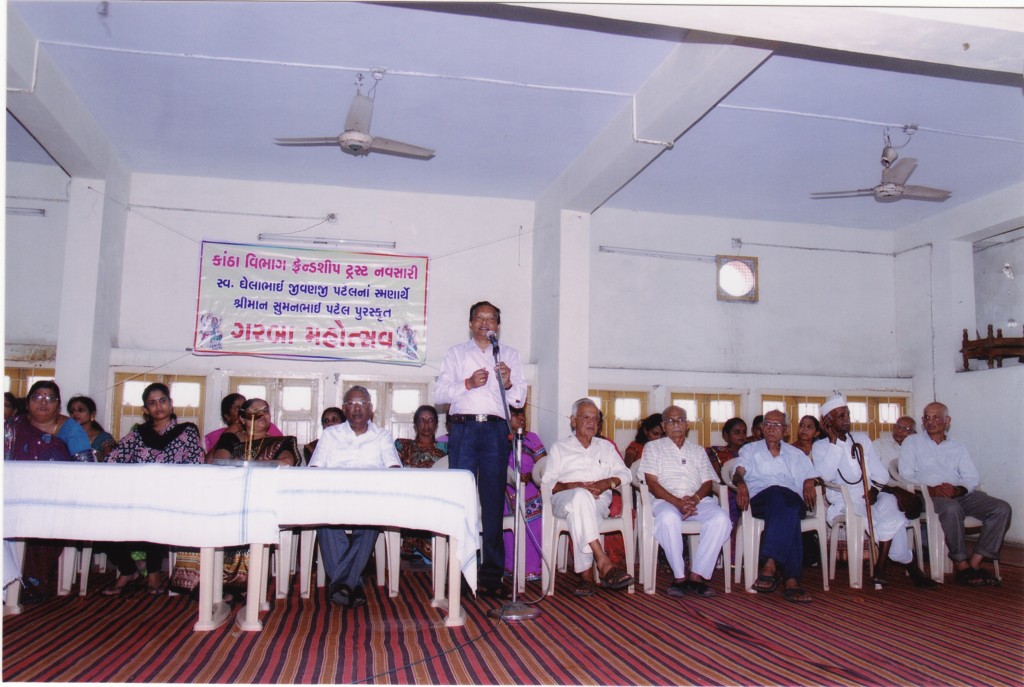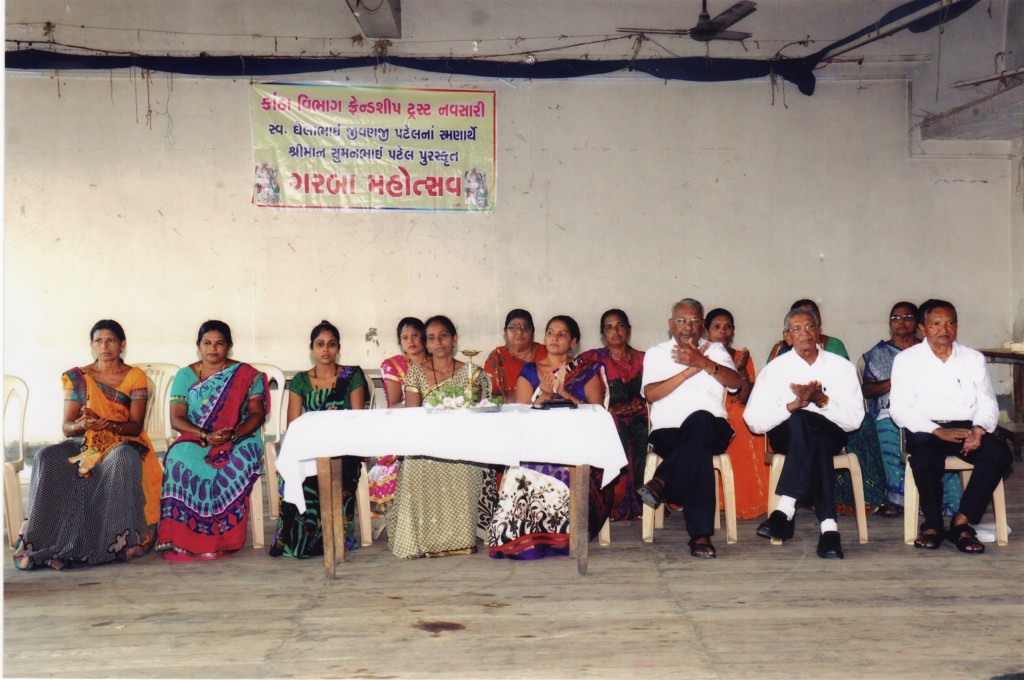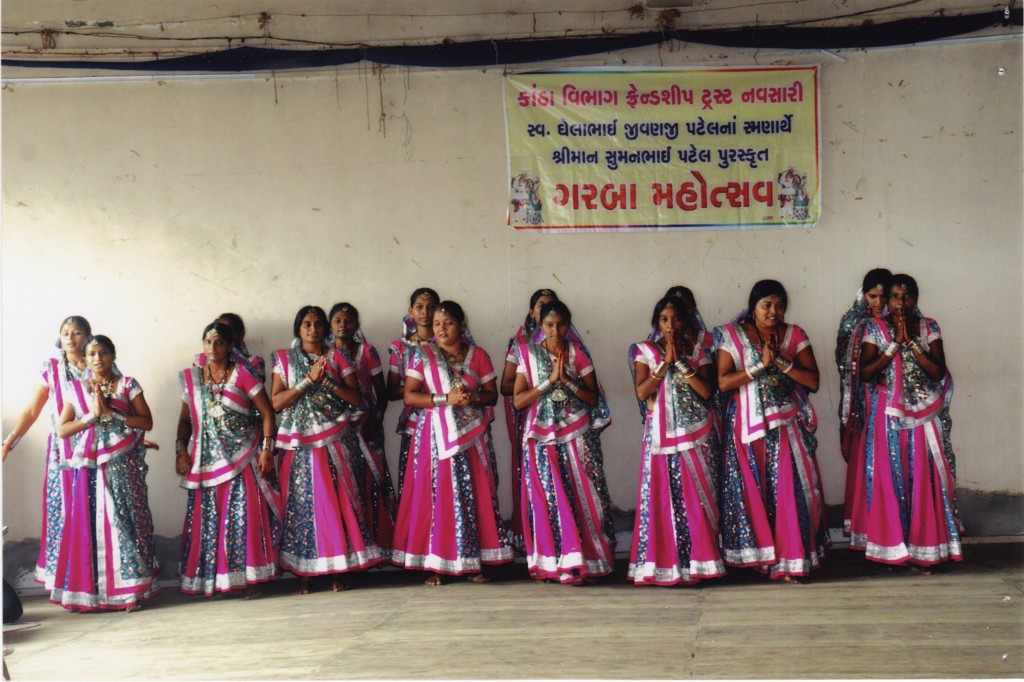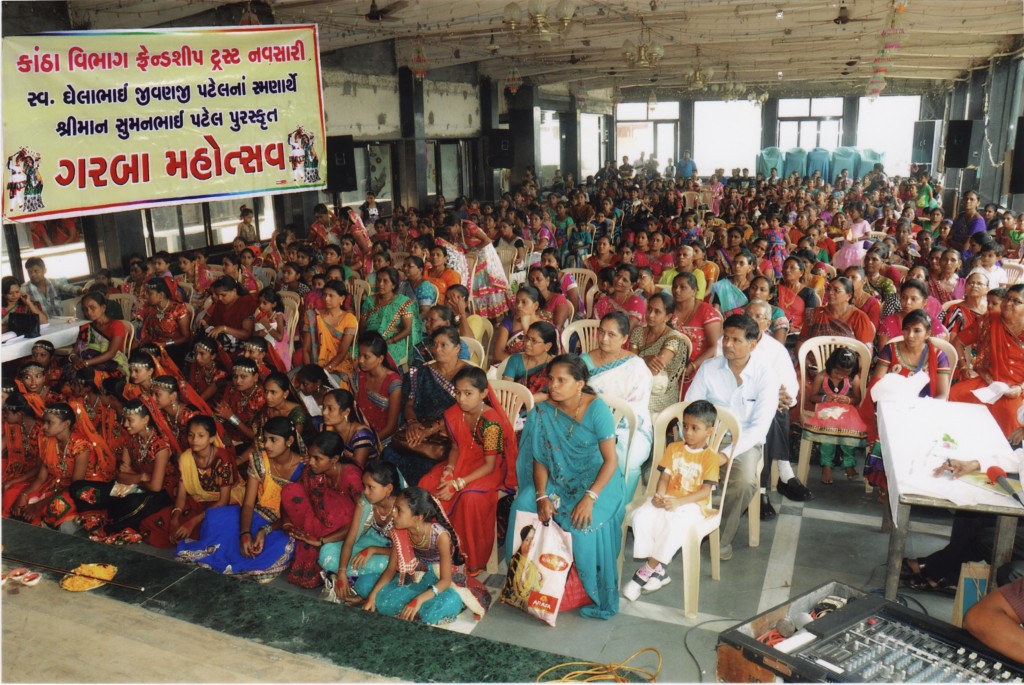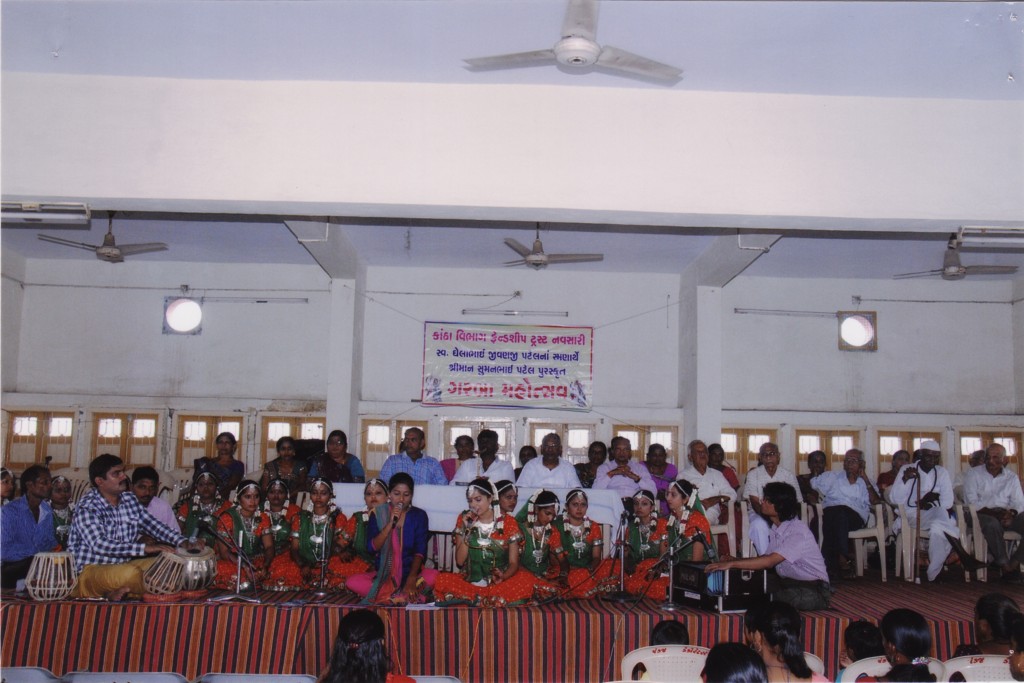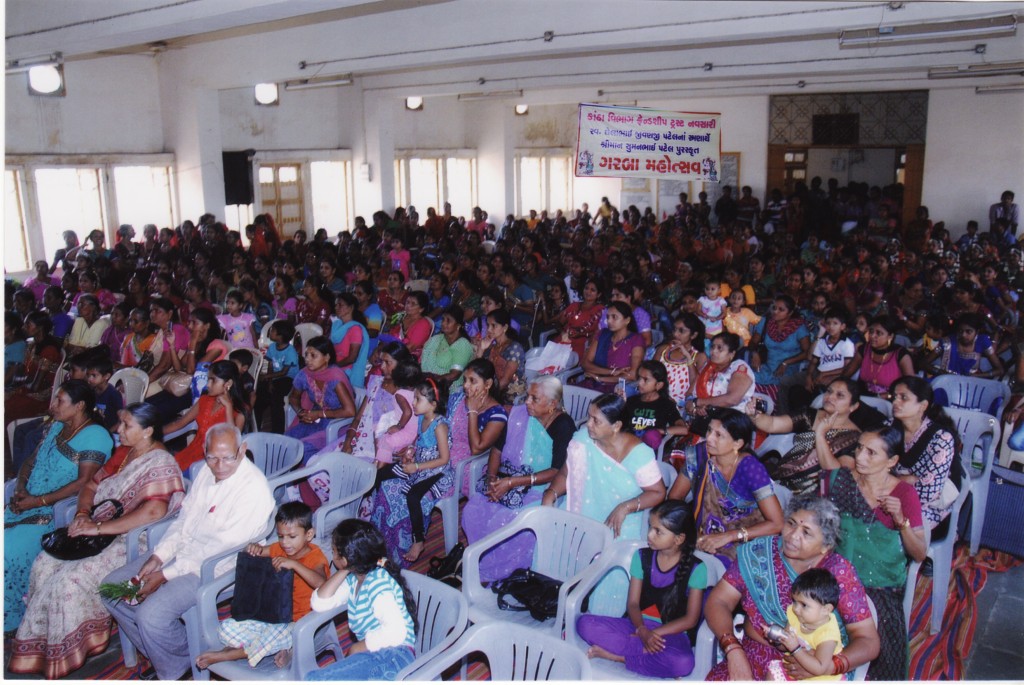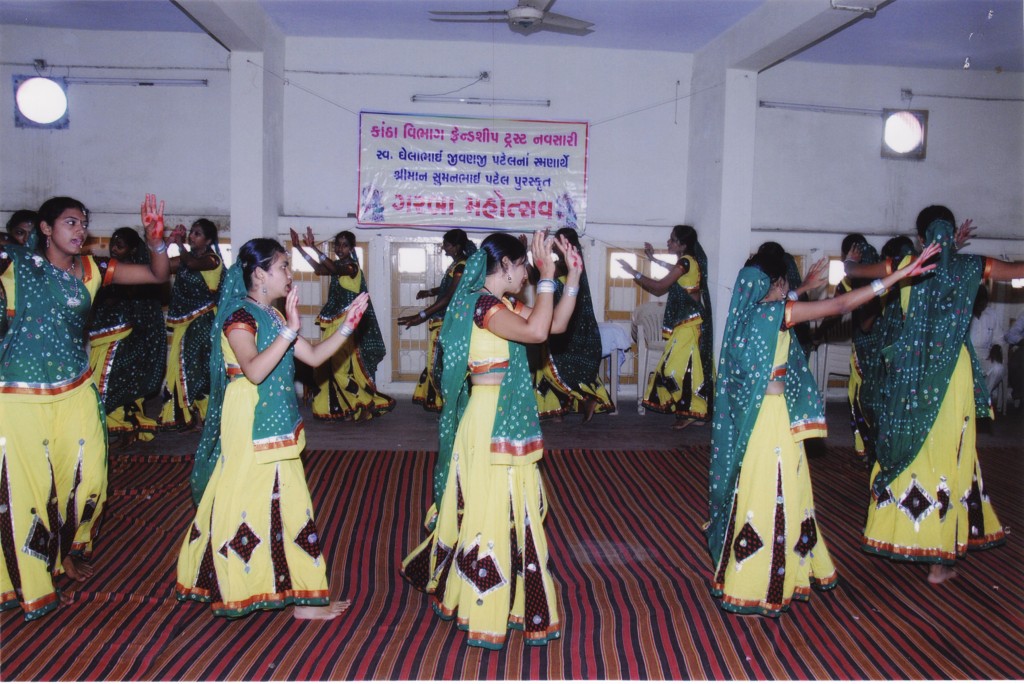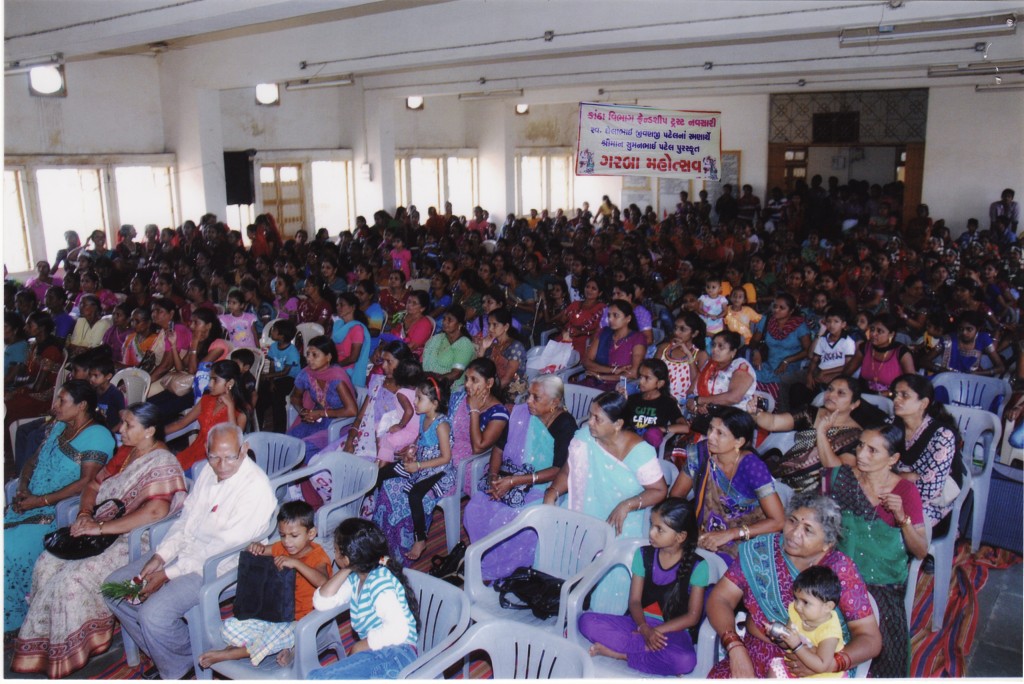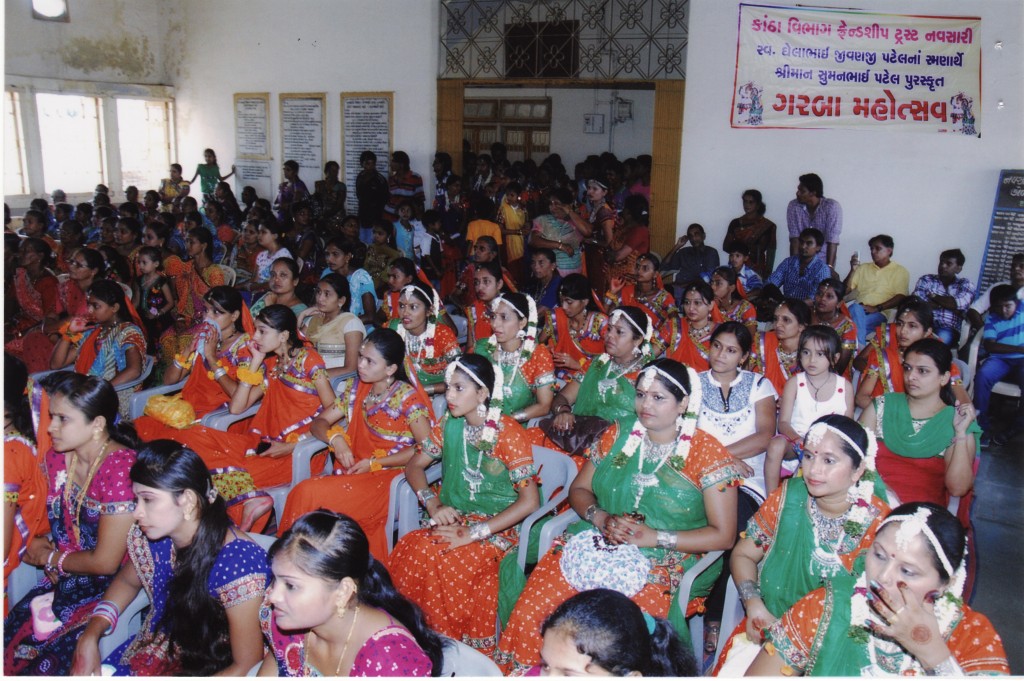 The Years 2020 – 2022.
The years 2020-to mid 2022 were years of Covid19. The whole world suffered lockdown with only essential activity.
Kantha Vibhag Friendship Trust managed just a few low key activity in 2020 and then some off and on in 2021 and 2022.
This update will cover all the mislleneous projects we managed with local help during the three years.