This page is be dedicated to all our people around the world who have excelled in any field, be it in Education, Business, Sport, Politics, Leadership, Charity, Social Services, Village Development, in fact, all spheres of life.
MBE for Balvantbhai Dahyabhai Patel
(profiled in English)
In almost all the countries of the world worthy citizens are greatly sought after, well regarded and rewarded. When it is the Head of the State who seeks one out and confers the award it is a rare honour for the individual, his family and his Community. We can all share in the highly valued recognition of Shree Balvantbhai by The Queen.
Balvantbhai was Awarded MBE by Her Majesty, Queen Elizabeth II in her Birthday Honour's for 2008.
Read the full profile:
__________________________________________________________________________
Lallu Makan
(profiled in Gujarati)
Read the full profile:
____________________________________________________________________________________
Bhikhubhai L Patel – Mayor of Preston
  (profiled in both English and Gujarati)
In a closely contested vote on 24 April 2005, Shree Bhikhubhai was declared The Right Worshipful the Mayor of Preston. His installation took place on 26 th May in the Council Chamber at the Town Hall followed by a colourful reception at the Gujarat Hindu Society.
This is an honour not only for Bhikhubhai and his family but also for our Mandhata Community in UK. He is the first to hold such a prestigious public position in our Samaj. Our congratulations and our good wishes are with him. Well done Bhikhubhai.
Bhikhubhai is no stranger to Mandhata Samaj. He served as Secretary of The Association of Mandhata Samaj, UK during the year 1997/8 and 1998/9 and thereafter as its President for a further three years. He is actively involved in the Gujarat Hindu Society in Preston also.
Read the full profile:
_________________________________________________________________________________
Isu Laloo Chiba – Freedom Fighter in South Africa, South African Member of Parliament
The Order of Luthuli in Silver Awarded to Laloo Chiba for his lifetime contribution to the struggle for a non-racial, non-sexist, just and democratic South Africa.
Profile of Laloo Chiba
Laloo Chiba was born on 5 November 1930. A member of the South African Communist Party and the Transvaal Indian Congress, he was profoundly affected by the extreme violence of the Apartheid regime during the Sharpeville massacre in 1960. This incident convinced him of the need for armed struggle and controlled sabotage to pressurise the Apartheid regime into negotiations.
Chiba joined the African National Congress' (ANC) armed wing Umkonto we Sizwe (MK) in 1961. By 1962 he was promoted to platoon commander. His commitment and leadership was recognised by his comrades and he was asked to become a member of the Second National High Command in 1963.
Chiba was brutally tortured by the Special Branch when he was arrested after his comrades were caught sabotaging a railway line. The Special Branch failed in their efforts to break him and, not being able to extract any information from him, it was unable to lay charges. Chiba was released – deaf in one ear from the torture he endured – only to be re-detained in 1964 and subjected to further remorseless interrogation.
In October 1964, together with other comrades, Chiba was charged with membership of the High Command of MK. He was sentenced and served 18years' imprisonment on Robben Island. On his release in 1982, he became active in the United Democratic Front and continued to work in the ANC underground.
Chiba was elected Member of Parliament in the first and second democratic elections in 1994 and 1999.
____________________________________________________________________________________
First Indian Lady to win a Gold Medal in one of the world's toughest Ultra Marathon Races, the Comrades Marathon in Durban, South Africa in 2009. (55 miles/90 kilometers in distance)
(Article in English).
One of the toughest ultra marathon's in the world was held in Durban, South Africa over the weekend where athletes come from all over the world to combine muscle and sinew and mental strength to conquer the approx 90 kilometres between the cities of Pietermaritzburg and Durban.
In a surprising and shocking result to both the running fraternity in South Africa and her community, Kashmira Parbhoo struck gold when she finished amongst the top ten female runners in the race, this is over a distance of over two standard marathons (42.2 kilometers) plus an additional five kilometers to give a total distance of ninety kilometers.
The Comrades Marathon is a cherished national treasure in South Africa and attracts thousands of runners, spectators and television viewers every year, the Comrade's marathon is ranked as one of the world's oldest and largest ultramarathon,also hailed as "the ultimate human race". A prestigious race by all accounts, not only because of the huge prize monies on offer but also because of the top runners it attracts as a result.
This is a major achievement and a milestone for Indian female athletes who are typically docile and do not typically partake in any strenous sports especially running or athletics. Kashmira is a relatively novice to the sport, having run for only nine short years and has suddenly shot to the forefront of the game, she completed the race in an astonishing time of seven hours and sixteens minutes (7:16:13). Kasmira, a gujarati, is a member of the Lenasia Athletics Club which is based in Johannesburg, in a sign that she was racing towards gold this year was a number one position in a different race in Johannesburg earlier this year and a top twenty finish in the Comrades Marathon last year.
Achieving a gold in the Comrades Marathon is extremely difficult as she was competing against an international field of athletes from Germany, Russia, Kenya etc. She hails from a family of athletes, her father and brothers being top cricket and soccer players. Kashmira is an IT Consultant in Johannesburg who supports SAP applications throughout South Africa.
Read the full article:
Kashmira Parabhoo Ultra Marathon Gold
Kashmira, a college graduate and SAP IT Consultant, has roots in our Mandhata Patel community and in Gujarat with her father's (Jaydev Parbhoo) side of the family from Delvada and the mother's side (Urmila Vala Gosai) from Avda Falia.
____________________________________________________________________________________
ALKA PATEL, Business Leader and Industrialist, Wallsall, UK (Mandir)
In this competitive business environment it is rare to see a lady winning any prestigious business award. But when one does make it usually is not from a minority community. No more. Not only has a lady from a minority community won a top award but also that she is from our own Mandhata Community. Alkaben has been a role model for a number of our people for quite a while. If you had any doubts at all set them aside for she has proved it even to the wider community in Britain. She has become an inspiration to thousands.
Read in detail her story as published in the Walsall Times.
"Alka Patel is a very rare and talented woman.
Rare, not only because few women take over their fathers' businesses, but also because this particular company is in a very male-orientated industrial sector.
Talented, because QA Electrical Products Ltd, since coming under her control as managing director in 1994, has built on the success established by her father, Dahyabhai Jhinabhai Patel, who decided to retire after the two sleeping partners had been bought out.
Indeed, the company has gone from strength to strength and it is no wonder that Alka collected a prestigious accolade at the recent Inspirational Women Annual Dinner and Business Awards at Dudley's Copthorne Hotel.
She was named as Walsall Business Woman of the Year, having been described as "an inspiration to any woman looking to go into business."
QA Electrical Products Ltd was established by Mr Patel in 1971 and has its own purpose-built, two-storey factory on Premier Business Park in Walsall's Queen Street.
With a staff of 18 people, it is one of the UK's largest and foremost manufacturers of low-voltage encapsulated polyester resin cast electrical current transformers.
They are sold to leading blue chip manufacturers of switchgear, ammeters and power generators throughout the United Kingdom.
Additionally, the products are exported to France, Hong Kong, Canada, the United States, Malta, Singapore and Malaysia.
Between 800 and 1,000 of the current transformers are made every week in a variety of sizes, ranging from one kilogram to 20 kilograms and from 10 amps to 5,000 amps.
"Our principle has always been to produce the best quality products and provide an unbeatably fast delivery turnaround," said Alka.
She arrived in England with her family as a three-year-old in 1959 and went to school in Wolverhampton, during which time she began to help her father in the business.
In 1974, after an arranged marriage to an Indian chemical engineer living in Canada, she immigrated to the latter country and worked in an insurance company, a legal firm and for Atomic Energy of Canada.
Her daughter Nisha was born in 1978 and the following year the family returned to settle in England. Alka and her husband have since divorced.
Alka joined her father's business and studied electrical engineering part-time. She also completed a supervisory course at Walsall College, followed by a BA Degree in Business Studies at the University of Wolverhampton.
Upon taking over from her father she displayed immense determination in learning how to run the company.
"I have never had any problems as a woman in this business and I believe that customers respect my knowledge of the product and service," said Alka. "We have never lost a customer among the 50 or so companies that we have sold to since 1971, although one or two have closed down or merged."
Alka, who believes strongly in the importance of staff training, earned this accolade from Catherine Bray, adviser for women owned businesses at Black Country Chamber and Business Link, which sponsored some of the awards:
"Having taken QA Electrical Products over from her father Alka has headed-up the business through some of its most difficult years, facing a worldwide recession and increasing competition from Asia,
"She has been solely responsible for the day-to-day operational aspects of running the factory and managing employees, as well as managing clients both within the UK and internationally.
"Not only is her industry highly competitive, but it is also generally male dominated, so as a woman working within a man's world Alka has truly succeeded.
"At nearly 50 you would think Alka is ready to slow down. However, she is now looking to invest further in the business and is looking at opportunities both in the UK and India.
"Alka is an inspiration to any woman who is looking to go into business, especially in engineering and manufacturing industries. "She is also an active member of Black Country Chamber and Inspirational Women."
Alka is a director of Premier Business Park and Walsall Ethnic Business Association, and serves on many other social and business committees".

Alka Patel – in Gujarati (PDF File)
________________________________________________________________________________________
Councillor Bhikhubhai L Patel of Sagra becomes Mayor of Preston, UK.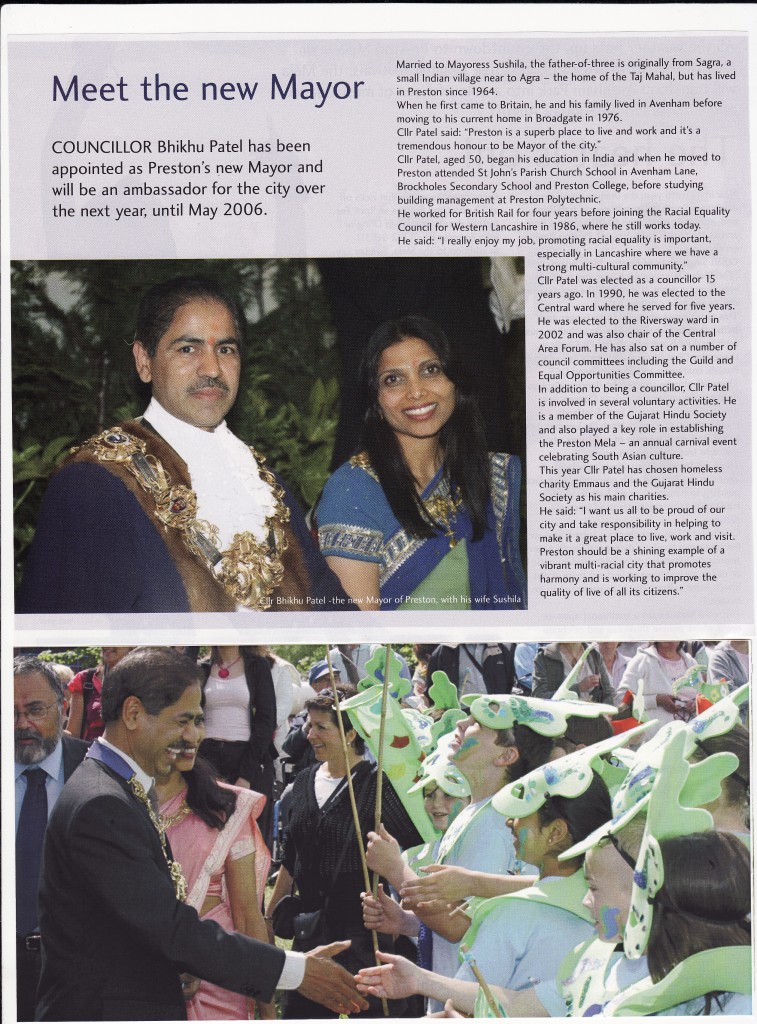 _______________________________________________________________________________________
Achievements Acknowledged
Shree Maganbhai P Patel, OBE.
Shree Maganbhai P Patel – Leicester's Citizen of the Month
Maganbhai was honoured by Her Majesty the Queen and the City of Leicester for his services to the community listed below.
Shree Maganbhai P Patel is a very familiar face in Leicester. At the age of 72 he is full of youthful energy and a man purposefully walking up to chair one or the other of his dozen or so organisations and guiding them to serve the community. He has done this for most of his 35 years in Leicester after arriving there from Kenya, more so after retiring from his full-time job at the age of 62.
He holds the following voluntary posts:
President of: Gujarat Hindu Association.
Leicester Hindu Festival Council.
Satsang Parivar.
Karad Kiran Arts.
Director and Vice Chairman of: Voluntary Action Leicester.
Trustee of: Hindu Forum of Britain
Secretary of: Board of Trustees Hindu Temple & Community Centre
Chairman of: Leicester Rajkot Twinning Association
Director / Chairman of: Belgrave Association
Governor Of: Wyvern Primary School
Board Member of: S.R.B.6
He occasionally attends the Executive Committee meetings of Mandhata Associations to share his experiences.
It is for services to the above organisations that he was rewarded Leicester's Citizen for the Month for January 2005. He was nominated for the award by Shree Rajendrabhai Chauhan.
Maganbhai hails from Karod in Navsari District in India. He is happily married to Ambaben and has three sons.
Our heartfelt congratulations go to him and his family.
Keshavlal J Patel
______________________________________________________________________________________________